Reviewinator

Starring
Paul Walker
Director
Richard Donner
Official Site
Link
US Opening

November 26, 2003

Rated
PG-13
Genre
Michael Crichton movella
Trailer Clichés
"From director...", quick-cut title splash
Explosions
7
Weapons
Sword, trebuchet, cannon, flaming arrows, axe
Voiceover
Yes
"In a world where..."

"Prepare to cross the line..."

Spoilage Factor
65%
Geek Factor
25% (Time travelling 3-D fax machines)
See Trailer?
No
See Movie?
No
I haven't read the book by Michael Crichton on which this trailer was based, so I won't do the normal geek dissection of how it deviates from the text.
Here's the trailer plot in a nutshell. Father loves his son. Six-hundred-year-old message discovered by archeologists. Kid and archeologist friends sent back in time by three-dimensional sending fax machine to rescue dad. Medieval battles occur. People from the future use their expert knowledge to rescue dad, and are brought back from the past in the nick of time. I'm guessing that somebody that died in the past comes back to life, because of a change in the timeline.
I like movies about time travel. Most geeks do when they are done well. If they are done very well, we might even complain some small plot holes that often crop up in time-traveling movies. If they aren't done well, then we have Mystery Science Theater 3000.
From the trailer for Timeline, I'm guessing that this is one of the latter.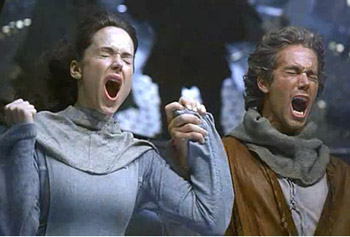 The time-travelers prepare for some
dental work in Medieval times.
One of the characters points out that nothing from their time can be taken back into the past. Then they are all given "personal markers" with digital readouts to take back with them. I thought digital readouts weren't invents until the 1700s. My guess is that they are also taking back their modern viruses and bacteria. At least they'll only wipe out France.
I guess you have to expect some conundrums in time travel movies.
An obvious discontinuity in a comment is distracting. "We have 650 years of knowledge on these guys there shouldn't be any reason we can't
< new voice>find my dad</new voice> and get home." It should be: "We spent eighty million dollars on this film there shouldn't be any reason we can't find a good sound editor for the trailer."
It's only two minutes of trailer but the acting is awful. The expressions and the delivery of the dialog are off.
One character every good action picture needs is a good villain. None appears in this trailer, or if they do they have zero screen presence. That does not bode well.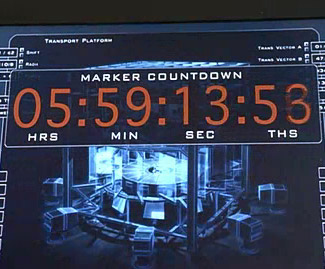 Never trust a movie
with a red digital readout
Lastly, the trailer pops opens an URL when it has completed running which is annoying, and just adds another reason to avoid it.
Too bad they couldn't go back in time and make a good movie.
Conclusion on Trailer: Not compelling. Does not make me want to see the movie. It is a miserable failure as a trailer.
Conclusion on Movie: Fans of the book shouldn't hold out much hope for this one. The trailer is bad. The buzz is bad.
Recommend This Story to a Friend