Reviewinator

Starring
Elijah Wood
Viggo Mortensen
Director
Peter Jackson
Official Site
Link
US Opening

December 17, 2003

Rated
PG-13
Genre
Fantasy/Adventure
Trailer Clichés
Quick-cut title splash, "This Christmas", swelling strings
Explosions
0
Weapons
Longbows, staff, pike, sword, flying claws, flaming eye, oliphaunt
Voiceover
No
"In a world where..."

"There can be no triumph without loss."

Spoilage Factor
35%
Geek Factor
95% (It's The Lord of the Rings)
See Trailer?
Yes
See Movie?
Yes
"The board is set," says Gandalf and so it is. This trailer does a wonderful job of building anticipation for the final Lord of the Rings film without giving too much away.
Darkness and dread permeate every corner. I know how the movie ends having read the books several times, but this trailer gives you the feeling that darkness may triumph this time. That Gollum's treachery may spell the end of Frodo and Sam. That Sauron and his minions will keep Aragorn from the throne.
Every special effect looks impressive. The snippets from what should be a long battle sequence on the Pelennor Fields look fantastic. Shelob looks frightening. The glimpses of Mordor look forbidding. This movie should be a CGI and special effects lover dream come true.
Each character will be tested in this film. Will they have the character and strength to overcome Sauron?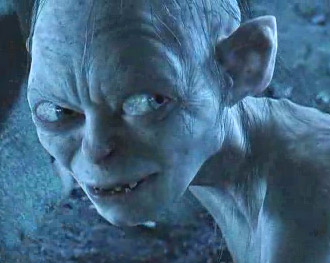 In your face Samwise
****SPOILER ALERT**** One possible spoiler for spoiler nitpicks would be Eowyn in battle dress, but that was so heavily foreshadowed in The Two Towers that it can hardly be considered a spoiler. People who haven't read the books wouldn't have any idea where she's going to be fighting and probably wouldn't even remember who it was. Those that do know Eowyn, well, it's hardly a spoiler for them. It doesn't climb to the level of The Two Towers trailer and the revelation that Gandalf was alive.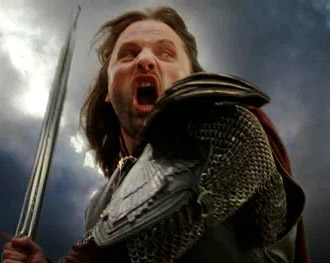 This guy is our king?
It's strange to be commenting on the camera work in a trailer, but I thought the camera movement on Frodo relayed the weakening of spirit and the effects the ring were having on him. He appeared to be swaying under the weight of the ring as he neared Mt. Doom.
Of course, the scouring of the Shire was not shown in the trailer, because it's not a part of the movie. I have to agree with the director's choice of not putting it in this film. Even in the book it seems a bit lengthy. In the movie it would seem out of place. The main plot threads of the film will be wrapped up by Aragorn ascending and the ring destruction (if it happens).
Sure there will be some nitpicks with this movie, but there hasn't been anything so far which makes me believe it will disappoint.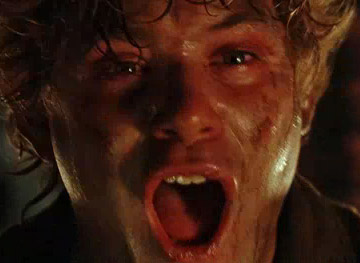 Mr. Frodo, how many rings do you
think I could fit in my mouth?
Conclusion on Trailer: I would want to go see this movie even without seeing the trailer, but the trailer built on my anticipation even more. That's what a good trailer does and this one is excellent. So who wants to go to the midnight showing with me?
Conclusion on Movie: Who am I kidding? You don't need my recommendation to want to see this film. You're either a geek or you're not.
Recommend This Story to a Friend