Reviewinator

Trailer
Quicktime
Starring
Ben Stiller
Owen Wilson
Director
Todd Phillips
Official Site
Link
US Opening

March 5, 2004

Rated
Not Yet Rated
Genre
Buddy cop, TV remake
Trailer Clichés
Slow-motion hero walk, "From the Director of..."
Explosions
0
Weapons
Handgun
Voiceover
Yes
"In a world where..."

"This spring, two legendary cops are teaming up to take on the ultimate bad guy."

Spoilage Factor
45%
Geek Factor
5% (TV remake, Ben Stiller)
See Trailer?
Yes
See Movie?
No
Given the schedule, BBspot can only review twenty-four trailers in a year. It would be helpful if Hollywood delivered these trailers evenly throughout the year. Alas, they do not so for the next few reviews we will be covering trailers well before the movie's release. We start this year off, with one that might be a contender for Worst Trailer of the Year – Starsky and Hutch.
Starsky and Hutch was a popular cop buddy show during the 70s, but that's neither here nor there.
From the director of Old School and Road Trip comes Naked Gun 44 ¼: Starsky and Hutch. The only similarities between the television series and this movie are the names of the characters, the bad acting, and the car.
Sure, the trailer has the same clothes, the "striped tomato" jumping off the pier, and the bad hair, but it just feels wrong.
If there had never been a 70s spoof before then this trailer might have been funny, but there has and it is not. If Ben Stiller had never played the same character ten times before then this trailer might have been funny, but he has and it is not. If Snoop Dogg had not already become a parody of himself then this trailer might have been funny. OK, you get the idea.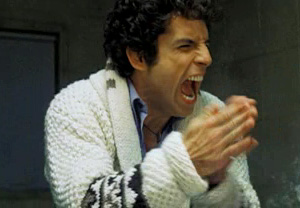 BBspot continues the tradition of images of actors with open mouths for Trailer Reviews
The trailer makes the movie look like it will be part comedy, part action and part Buddy Lee commercial. There are plenty of lame jokes and trailer clichés, including a slow-motion hero walk to Aerosmith's "Sweet Emotion."
I would have preferred a straight remake of Starsky and Hutch, not one with David Soul and Paul Michael Glaser reprising their roles, but the original series good acting, good writing and a bigger budget. That would be much better.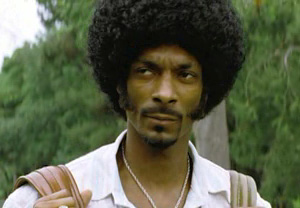 Snoop Dogg agrees
"Afros aren't funny."
Conclusion on Trailer: If you have never heard of the TV show or seen a parody of the 1970s then you will probably find some funny stuff in this one. If you are expecting a remake of Starsky and Hutch then you will just get a weird sensation while watching this.
Conclusion on Movie: I like Ben Stiller, but I am getting tired of him playing the same tired character. This movie will suck.

Recommend This Story to a Friend