Reviewinator

Trailer
Quicktime
Starring
Sara Polley
Ving Rhames
Director
Zack Snyder
Official Site
Link
US Opening

March 19, 2004

Rated
Not Yet Rated, but most likely R
Genre
Horror Remake
Trailer Clichés
Quick-cut, film melt, shaking door.
Explosions
1
Weapons
Flesh-eating zombies, handgun, shotgun, flying zombies, fear, darkness, flying motor homes
Voiceover
No
"In a world where..."

"When there is no more room in hell..."

Spoilage Factor
0%
Geek Factor
5% (Zombies)
See Trailer?
Yes
See Movie?
Yes
Dawn of the Dead combines two of my favorite plots. A post-apocalyptic setting and living in the mall. Throw in some flesh-eating zombies and you've got a great concept
Dawn of the Dead is a "reenvisioning" of the 1978 George Romero film. Let's hope that it does a better job than the other "reenvisionings" like Planet of the Apes and the recently reenvisioned horror classic - The Texas Chainsaw Massacre.
The trailer opens with a serene scene of a suburban family; mother, father and soon-to- be-flesh- eating-zombie daughter. After the daughter kills off her father, the mother escapes outside. She's faced with a zombie-filled town of burning buildings, which could only be one place - Wisconsin.
Next, the tagline that flashes on the screen "When there is no more room in hell, the dead will walk the earth." This is misleading since it is likely the young girl wasn't going to hell. I know she's going to hell AFTER killing her dad, but before that she probably would've been headed to heaven, so heaven must be filled too.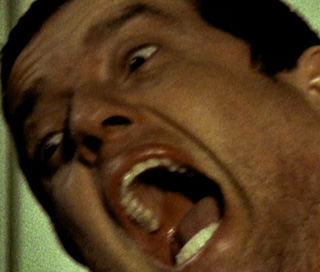 "I bet you can't open your mouth this wide, oh zombie child of mine."
The mom races to the mall and joins the last surviving citizens of the town. All the doors are barred, but there is a large crowd of hungry zombies outside. Eventually the locked doors will be broken and the shotguns will make some zombie head-mush.
One scene that troubled me involved one of the zombies flying through the air Superfly Snooka style onto one of the survivors. In my imagination zombies are mindless and shuffling. They overwhelm you with sheer numbers, much like the orcs from The Lord of the Rings. If you are going to make them active why not have lasers shooting out of their eyes too.
Another troubling fact is that we have another first time director at the helm of another classic horror film remake. The trailer also uses a similar scene transition technique that Chainsaw Massacre used. Both not good signs.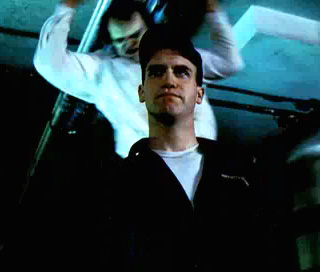 Raise your hands if you're sure!
Despite those facts, living in a post-apocalyptic mall with zombies outside gives us an interesting setting. People are facing the death of loved ones and their own imminent death. They also have the emotionally wrenching task of killing those zombified loved ones. I have a feeling that this movie will gloss over these interesting psychological aspects and spend more time on action. I love zombie decapitation just as much as the next guy, but seeing how people react in a post-apocalyptic environment is interesting too.
Conclusion on trailer: Good creepiness factor, compelling premise, and decent actors make this a trailer worth downloading.
Conclusion on movie: First time director remaking a horror classic gives me the willies. Might be worth seeing after watching the original, so you can complain how the original is so much better than the remake.
Recommend This Story to a Friend