Reviewinator

Trailer
Quicktime
Starring
Johnny Depp
John Turturro
Director
David Koepp
Official Site
Link
US Opening

March 12, 2004

Rated
PG-13
Genre
Thiller, Stephen King
Trailer Clichés
Quick-cut title splash, "From the Writer of..."
Explosions
4
Weapons
Delete key, poker, ax, Molotov cocktail, rock, paper, scissors, shovel
Voiceover
Yes
"In a world where..."

"...a window into another world. But some windows should never be opened."

Spoilage Factor
45%
Geek Factor
10% (Horror, computer use, Slinky)
See Trailer?
Yes
See Movie?
Yes
Before I checked the credits for Secret Window, I knew Stephen King had a hand in the story. A horror movie with a novelist as the main character was a dead giveaway. Obviously, after the failure at the box office of the previously reviewed Dreamcatcher, the King name does not have the cachet it used to.
Johnny Depp plays a novelist who lives in a remote mountain cabin. He is paid a visit by an Amish-Italian fellow named Shooter (or is he?) who claims Depp stole his story. Depp has never met Mr. Shooter before, but sure enough, the novels match word for word.
Charles Dutton tells Depp that Shooter may not just be some random nut and when Depp asks who he is; Charles Dutton replies ominously, "You don't want to know."
Standard horror fare follows with people looking around scared wielding various ineffectual weapons. Girlfriends screaming as Amish Italians break windows. Of course, since it is a King story we get a supernatural twist as well with a door rattling and shaking like some unearthly beast is behind it.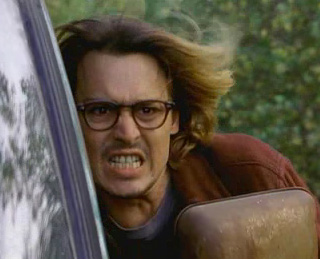 Johnny Depp fends off the
funny hat with bared teeth.
Despite the creepiness of the trailer, I laughed a lot. The Shooter character, played by John Turturro, has a funny accent and wears a funny hat. It is hard to be menacing with a funny hat. He has some humorous dialog as well.
When he says "I want you to fix my ending," that reminds me of a comedy skit. One where the music and direction makes you assume it is a scary scene, but instead it is about a mundane topic like making a sandwich.
The other Turturro line that had me chuckling happens when Depp says, "He calls himself Shooter." Turturro says, "Maybe my name's not Shooter." I just picture his next line being "My name is Mokimbo, Lord of Amazon!"
After the voice-over says "Some windows should never be opened," Depp goes and opens a door. I know they are trying to connect the words with the image here, but a door is not a window. Either the movie should be called Secret Door, or Depp should be opening a window. Or maybe I am just drawing a conclusion the creators did not intend.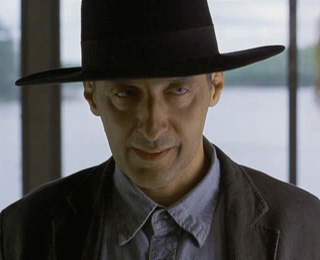 I'm gonna getcha with my lazy eye.
The suspense and direction of the trailer overcome the couple of goofy lines, but I am concerned the Shooter character will not be a convincing villain.
An obvious weapon for someone who lives in a remote mountain cabin would be a gun. Of course, guns make horror movies less entertaining. In Secret Window, we have axes, log pokers, rocks and shovels. Guns just put holes in people, shovels put dents. Dents while less deadly are more gruesome.
Conclusion on trailer: The trailer entertains with suspense and a laugh, if you have the same sense of humor that I have. Depp performs well and so does Charles Dutton as his editor.
Conclusion on movie: I am not convinced that Turturro was a good choice as a villain. At least they should not have given him such a funny accent and hat. Nevertheless, there are enough positives in the trailer to make this movie worth seeing.
Recommend This Story to a Friend