Reviewinator

Trailer
Quicktime
Starring
Ron Perlman
Director
Guillermo del Toro
Official Site
Link
US Opening

April 2, 2004

Rated
Not Yet Rated
Genre
Comic Book Adaptation
Trailer Clichés
Heartbeat cut
Explosions
7
Weapons
BFP, giant sword, flaming hand, Fist of Doom, tentacles, switch-swords, rifle, spikes.
Voiceover
No, but text-over
"In a world where..."

"There is a secret agency..."

Spoilage Factor
20%
Geek Factor
45% (Comic book adaptation, mutants)
See Trailer?
Yes
See Movie?
Yes
Hollywood loves to take a successful idea and beat it into the ground until even the most ardent admirers are disgusted. The recent trend has been for movies based on comic books. We are not at the disgusted threshold yet, but with recent stinkers like LXG and Daredevil we are getting there fast.
Hellboy is the latest entrant in this genre. Surprisingly, this one could be good.
The background information on Hellboy could be pieced together from the clues in the trailer, but there are some better resources on the web for that. The official site is a the place to start, then check out some of the e-comics on the Dark Horse website.
Hellboy is a demon that was spawned by the Nazis to help destroy the world, but before they could use him for evil he was rescued by the Allies. Now, he fights for the forces of good. He became part of the Bureau for Paranormal Research and Defense which refreshingly does not have a cute acronym. In the trailer he is joined by Abe Sapien, an amphibious, fish-man with encyclopedic knowledge and Liz Sherman, a pyrokinetic hottie.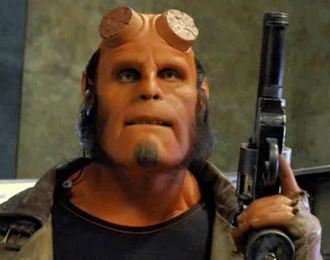 I'm Hellboy, meet Mr. Gun
Sure, mutants shunned by society, led by an aging professor and fighting evil sounds much like X-Men, but Hellboy looks like it has good villains, a decent story line and it is not saddled with a first time director. They did a fine job with the trailer.
The trailer consists mostly of introductions of the heroes and villains, then several action sequences. They did a great job with Hellboy. He looks cool, not cartoonish like the Hulk did. I like his Fist of Doom and his attitude.
Abe Sapien says, "If there's trouble, all us freaks have is each other," of course with the spread of freaks and mutants in movies these days they probably would outnumber normal people, so he does not have that much to worry about.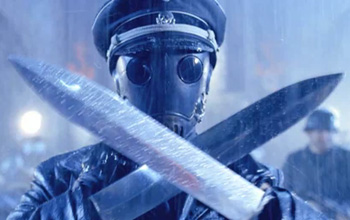 Just another brick in the wall.
Conclusion on trailer: It is another comic book that you probably have never heard of turned into a movie. This trailer is well made. You've got a hero with an attitude who looks cool. You've got some evil looking villains. This trailer is one to see.
Conclusion on movie: I hesitate recommending another comic book based movie, but this one doesn't throw up as many red flags as the others. There's no Ben Affleck or Colin Farrell anywhere near it, and it wasn't made by a rookie director. This has the trappings of a sleeper hit. Worth a visit to the local theater.

Recommend This Story to a Friend