Washington, DC - In an effort to reduce the federal deficit, President Bush announced today that all Americans must work weekends at Wal-Mart.
The retail giant has agreed to absorb the $2.4 trillion deficit in return for Americans providing free labor. Bush, who now calls himself the "Store Manager in Chief", called the program "another bold step in our efforts to privatize the US government."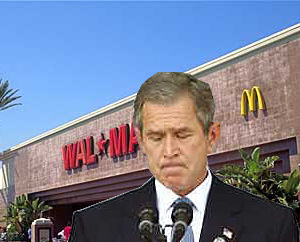 Wal-Mart will pay one dollar towards the deficit for every hour an American is locked in a store and forced to stack boxes. "If every American gives up just 20 hours every weekend," said Bush "we will erase the deficit in nine short years."
Bush apologized for letting the deficit so large. "Gosh," he said, "I had no idea we were frittering away so much money. I must have missed a cabinet meeting or something." Bush will be taking other steps to reduce the deficit, including the elimination of the Department of Transportation. "What the hell do they do anyway?" he asked.
Americans working at Wal-Mart will be subject to the standard Wal-Mart policy of no rest room breaks for whiners or anyone who utters the word "union". Wal-Mart will also continue their normal policy of hiring large numbers of illegal immigrants.
All Americans will be going through the Wal-Mart training program, which includes classes on "Greeting Customers With A Smile Even Though Your Job Sucks" and "Stop Being Such An Ingrate".
Bush said Dick Cheney would be handling the details of the Wal-Mart program because "the poor guy needs something to do." Cheney was not available for comment, however, because he was busy cleaning up a spill in aisle six.
Bush denied the program was related to the large donations Wal-Mart gave his presidential campaign. "I just love Wal-Mart!" he said.