Reviewinator

Trailer
Quicktime
Starring
Director
Jonathan Hensleigh
Official Site
Link
US Opening

April 16, 2004

Rated
R
Genre
Comic Book Adaptation
Trailer Clichés
Quick-cut title splash
Explosions
14
Weapons
Uzi, switchblade, shotgun, compound bow, handguns, assault rifle, combat knives, handgrenades, dumbbell, big-ass machete, butterfly knife.
Voiceover
No
"In a world where..."

"No one's ever stood up for me before..."

Spoilage Factor
35%
Geek Factor
25% (Comic book weapons)
See Trailer?
No
See Movie?
No
"How is this different from any other action movie?"
I caught myself thinking that throughout this trailer for The Punisher, the latest comic book-to-movie effort from Marvel.
Frank Castle aka the Punisher does not have any superhero powers. He can't shoot webs from his wrists. He can't fly. He doesn't even have a utility belt. He does have a cool t-shirt, a case-modded car and access to a multitude of weapons, but that doesn't make him different from most Americans.
The trailer begins with a man serenading Castle in a diner with flashbacks to Howard Saint ordering the murders of Castle's family. Castle manages to escape the explosion. Now his life is dedicated to killing Howard Saint.
The rest of the trailer is one action cliché after another: car crashes, gunfights, non-gun fights and explosions.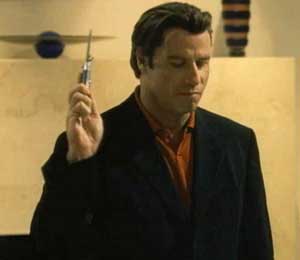 "That's not a knife."
As with all other action trailers this one tries to temper the extreme violence with some humor. In one scene a waitress thinks that the Punisher may be an artist. In another, Punisher gets all fancy with a knife then bops the bad guy in the nose with it and tells him "You shouldn't play with knives."
Later in the trailer we learn that the Punisher not only is doling out punishment for his family's murders, but he has taken up the cause of eradicating all evil. One loser proclaims that "nobody ever stood up for me before." Um, maybe it's those four piercings in your lip and the lack of hygiene. You ever think of that? It's pretty easy to stand up against somebody when you're armed to the teeth like the Punisher.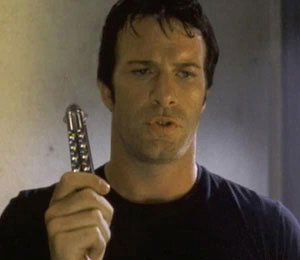 "That's not a knife either."
It appears most of the movie will concentrate on Saint sending killer after killer to get beat up by the Punisher until eventually Punisher will fight through all the minions and get to the big boss level.
In one minion-fighting scene Punisher hits a table which pops out a secret compartment for a gun. The Russian rams a dumbbell down on the gun and bends the barrel. Now call me crazy, but why doesn't the Russian just hit Punisher on the head with the dumbbell? Major head injury for the Punisher and the fight would be over.
John Travolta plays the villan, Howard Saint. When I see Travolta, I see idiocy. The guy doesn't seem to have a brain in his head. How can I be convinced that he is an evil mastermind if I can't even believe he can dress himself in the morning?
I do appreciate the use of a compound bow and arrow. I wish more action movies would incorporated this cool-looking weapon.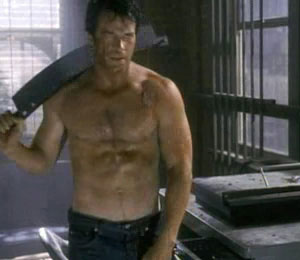 "Now that's a knife."
Another cliché which the trailer employs is the "setting off explosions in the background as you casually walk away" trick scene. Have any of these guys heard of shrapnel? Just once I would like to see the hero get knocked on his ass in one of these scenes. Now that would be funny.
Conclusion on Trailer: I'm a bit disappointed with the trailer. It looks just like any other standard action movie. Remove the Marvel logo at the beginning and you wouldn't even know it was based on a comic.
Conclusion on Movie: With Travolta as the main villain and the hero having no other powers except a strong urge to beat people up, this one might be good for a no-brainer action flick. If you are in the mood for something a bit more stimulating then look for something else.
Recommend This Story to a Friend