Reviewinator

Trailer
Quicktime
Starring
Director
David Twohy
Official Site
Link
US Opening

June 11, 2004

Rated
PG-13
Genre
Action, Sci-Fi
Trailer Clichés
"This Summer", Matrix landing
Explosions
9
Weapons
Pikes, space ships, future gun, knife, gravelly voice, alien dog, ball and chain.
Voiceover
Yes
"In a world where..."

"Cannot stop destiny"

Spoilage Factor
25%
Geek Factor
75% (Sci-Fi, CGI, outcast hero)
See Trailer?
Yes
See Movie?
No
A successful action movie begets a sequel, and the sequel usually attaches a 2 or a colon to the original title to capitalize on the success of the first film. How do you explain The Chronicles of Riddick? It does not contain the title of the movie it is a sequel to, Pitch Black, and Pitch Black was not even that successful. I can only assume that it is a reverse psychology experiment by the studio.
The trailer lays out the plot well. An army of Necromongers is spreading through the universe, converting or killing every human in its path. Judi Dench leads the French planet. She says sometimes you cannot fight evil with good, but another kind of evil. And so enters Riddick (Vin Diesel). Diesel is a prisoner with weird eyes that let him see in the dark. He must be one real bad ass if he can defeat an entire army of men and space ships all by his lonesome. Hell if he is that powerful, how are they keeping him imprisoned?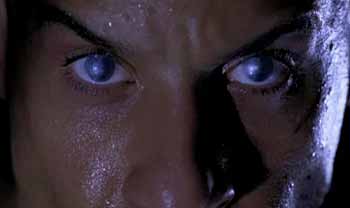 Tweezed eyebrows add to the menacing look.
I have a feeling that this movie will have many geeks asking questions like that. Science fact is not its strong suit.
It is always fascinating to see other planets being created on film, and it looks like Riddick will give us plenty of eye candy. The invaders have giant totems they place around the planet. Their warriors have grim-faced helmets to match. They also have an attractive queen, which does not hurt.
Riddick comes from a long line of conflicted heroes. Should he help those that have imprisoned him? He tells us that it is not his battle. Of course, he will help after being forced by the bad guys.
I was impressed by the imaginings, but a cheesy shot of Riddick swinging on a rope with woman in arm and an explosion in the background gives me worry. I hope those scenes are scarce in the film.
There is a strange mixture or weapons on display. The bad guys have laser pistols and space ships, but they also carry around some pikes, which they like to swing at people. Why do that when you can just blast them?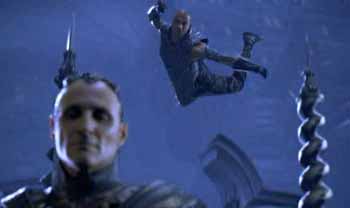 Belly Flop!
The trailer borrows shots from other films. There is what I like to call the Matrix Landing, which was also feature in Underworld. The hero drops from the sky and lands with one leg stuck out to the side and a hand on the ground. There is the outrunning the crashing space ship, which was featured in Men in Black. It is not a direct match, but when one character says "Who the hell are you?" I half expected a reply of "I'm Batman." The shot where Riddick is flying at the bad guy with a knife looks familiar as well, but I cannot place it (Ed note: Reder, Paul M, wrote into say that I was thinking of Matthew McConaughey's leap in Reign of Fire, which was correct).
Conclusion on Trailer: Cool visions of an alien world and special effects make this download intriguing and worth the download.
Conclusion on Movie: A few cheesy scenes in the trailer make me worried. This one has a high likelihood of being bad. Probably, best to wait for your friends to go see it to tell you that it sucked before dropping your own cash on it. Those who have seen Pitch Black may be more inclined to see the sequel.
Recommend This Story to a Friend