Reviewinator

Trailer
Starring
Director
Pitof
Official Site
Link
US Opening

July 23, 2004

Rated
PG-13
Genre
Comic Adaptation
Trailer Clichés
Matrix landing, top-of-building perch, "This Summer", rock soundtrack
Explosions
0
Weapons
Handgun, dogs, shotgun, paws of fury, whip
Voiceover
No
"In a world where..."

"Live without fear"

Trailer
Déjà Vu
Daredevil
Spoilage Factor
45%
Geek Factor
35% (comic book based, superhero, dark setting)
See Trailer?
Yes (with caveats)
See Movie?
No
Normally, I visit Apple's site to download the trailer I want to review. No such luck with Catwoman, only the one-minute teaser trailer resides there (despite being labeled Trailer). The official Catwoman site does not have it either.

(WARNING BELLS)

Eventually, we did track the two-minute trailer down. Unfortunately, it had the export image function disabled as well as something to screw up my screen capture software.

(WARNING BELLS)

The message I get from this: If we show people too much of this movie, they will not want to see it. After seeing the trailer, I can confirm this.

The movie was directed by the one-named Pitof. Sounds suspiciously like Burger King's Ugoff.

(WARNING BELLS)

If Halle Berry did not sign up to be a part of this movie, then I doubt it ever would have seen the light of day. I can see the producers of this movie sitting around a coffee table, and one of them saying, "Which do you think will give us bigger box office? Calling it Catwoman or Halle Berry's Breasts?"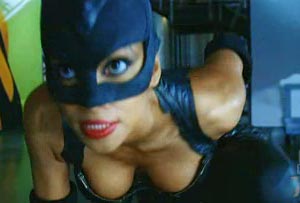 MEOW!
A little known rule outside of Hollywood is, if you do not have a compelling story line or interesting characters, dress Halle Berry in as little as possible and hope for the best.

Berry plays a down-on-her-luck wage slave until one day she dies. Then she is reborn as Catwoman after being bitten by radioactive super cats. Now, she can spit hairballs to disable criminals. Actually, she just lands on her feet when she falls.
She has been framed for killing a cop, and now she must become a crime fighter to clear her name.
Catwoman describes herself as "hot, black leather, whip." She missed "usually oiled up." Unfortunately, this movie is only rated PG-13 so it would be as good as it could be with that description.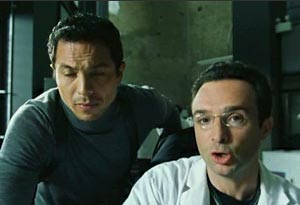 "Holy leather, Insomniac! Will you
look at those cat ears!"
Benjamin Bratt plays a clueless detective. He falls for Catwoman's alter ego, and even though he is searching for Catwoman, he cannot recognize her. He must be Lois Lane's brother or the dimmest detective on the planet.
"Witnesses say she jumps around like a cat." Sorry, but this sounds more like one of the superheroes Colin Mochrie would create on "Whose Line Is It Anyway?" Cats can move quickly, but they cannot avoid bullets, or so I have heard.
Conclusion on Trailer: If you enjoy looking at Halle Berry oiled up in skimpy black leather outfits, or you want a warning on why you should not pay money to see this movie then this trailer is for you. Otherwise, save your bandwidth.
Conclusion on Movie: Run, run away as fast as you can. Not even Halle Berry's breasts can salvage this one from the litter box.
I have added another category to The Reviewinator called Trailer Déjà Vu. I will list the trailer that came to mind when I watched the currently reviewed trailer.

Recommend This Story to a Friend