Reviewinator

Trailer
Quicktime
Starring
Director
Alex Proyas
Official Site
Link
US Opening

July 16, 2004

Rated
PG-13
Genre
Sci-Fi, Thriller
Trailer Clichés
"This Summer", Quick-cut title splash
Explosions
1
Weapons
Assault rifles, handgun, robots, car
Voiceover
Yes
"In a world where..."

"With our world"

Spoilage Factor
65%
Geek Factor
75% (based on Asimov novel, robots, futuristic setting)
See Trailer?
Maybe
See Movie?
No
On just about any discussion board on I, Robot, I read about boycotts and Isaac Asimov spinning in his grave. I am not enough of a fan to consider a boycott, nor am I such a student of Asimov to know how he would feel about this movie. I do know that as someone who loves new technology, the theme of this movie disturbs me.

In a world where robots take care of our mundane tasks for us, only Will Smith will be the Luddite that can save us from our madness. They clean, cook, walk the dog, but Will knows the truth. They want to steal our women, and he is going to stop them. OK, they don't want our women. They just want to kill us.

Fear technology folks. Today it is high-speed Internet and DVD burners, tomorrow it's killer robots! That is the message this trailer sends.

What is surprising is how successful many of these technophobic movies are among geeks. The Terminator series says we should fear technology before it takes over the world, the same with The Matrix. For people that embrace machines and technology, why do we flock to such movies in large numbers?
Are you sure this is what Isaac
had in mind?
I applaud the look of the robots. A more contoured look than most movie robots. The CGI looks well done as well.
I hope the trailer producers just picked some bad moments for Will Smith, because this is the worst I have ever seen him. He seems to be overacting at every moment.
The palette of this trailer is decidedly gray. Why do so many movies that depict the future choose this color scheme? Will we all eschew the primaries in the future? The look of this movie reminded me of Minority Report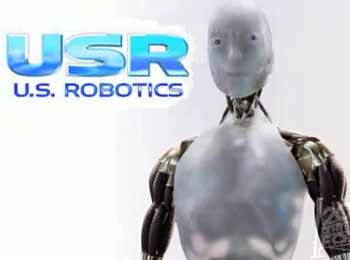 These robots run at 56k!
In the end, it will be the fault of the megacorp that created the robots, and Will will save the world from certain destruction. There will probably be a touching moment as the last robot dies in Will's arms, about how they only did as they were programmed.
Conclusion on Trailer: Not a complete waste of two minutes. The robots are fun to watch, but the rest is generic. This trailer did not do its job. I am not more inclined to see the movie after watching the trailer.
Conclusion on Movie: I do not get a good feeling about this one. The director did make the excellent Dark City, but big budget action films may not be his genre. Go see Spider-Man 2 again, instead.

Recommend This Story to a Friend