Reviewinator

Trailer
Quicktime
Starring
Director
M. Night Shyamalan
Official Site
Link
US Opening

July 30, 2004

Rated
PG-13
Genre
Shyamalanian
Trailer Clichés
"From writer and director"
Explosions
0
Weapons
None
Voiceover
Yes
"In a world where..."

"Between everything they love and everything they fear"

Trailer
Déjà Vu
Blair Witch Project
Spoilage Factor
45%
Geek Factor
25% (Shyamalanian)
See Trailer?
Yes
See Movie?
Yes
The opening shots show a peaceful village from the 1800s. Children playing, everyone happy, but, they are not alone. They do not have a name for them, just "creatures that live beyond their borders." They have a gentle understanding with the creatures: Do not stray into our village and we will stay out of your woods. Much like the relationship between Americans and Canadians.

Fortunately, for us, something has disturbed the creatures. The creatures have left marks on the doors. Villagers flee to their cellars. One villager pleads with the village elders to let him cross through the forbidden forest to go for help.

I was impressed how quickly tension was created in this trailer. I jumped when one of the creatures moved into frame. That is hard to do in a two-minute trailer.

This trailer looks much like Shyamalan's other movie, Signs. Instead of aliens in modern times, it is creatures in the woods a couple hundred years ago. Most people would say it looks like all of his movies, but I do not hold a distinctive style against a director.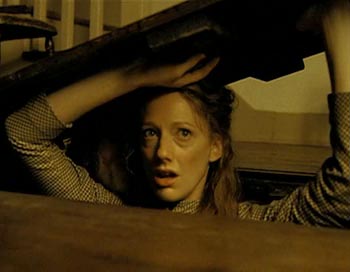 One villagers realizes the creatures don't
wear clothes and this one's a boy!
Yes, it looks like it follows the same formula that we saw in his previous films, but as The Onion proved, if it is a good formula and you do it well, it can be successful. I do not know how much longer Shyamalan can pull off these kinds of films, but I will give him one more shot at it with this one.
The reason his movies stand out so much is that they are simple, quiet and suspenseful. Not complicated, blaring and obvious like most Hollywood fare. I am glad there are not more movies like this, because it makes me appreciate his more. There are no rock soundtracks in this trailer. No superheroes, no guns, no cars. Hitchcock said it best, "A bomb is under the table, and it explodes: That is surprise. The bomb is under the table but it does not explode: That is suspense."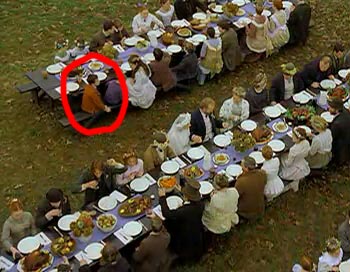 Stupid kid, the creatures are
ATTRACTED to red!
We also get to see the rules for dealing with the creatures.
Never enter the woods. That is where they wait. (Seems easy enough)
Let the bad color not be seen. It attracts them. (So much for Valentine's Day)
Heed the warning bell for they are coming. (More of a suggestion than a rule)
At least we can talk about the creatures, unlike Fight Club.
Conclusion on Trailer: Excellent trailer. Creates suspense and a desire to see the film. Enough is explained, but mysteries remain.
Conclusion on Movie: Shyamalan is a skilled filmmaker and there are good actors. If you have not enjoyed any of his previous films then it is doubtful you would enjoy this one. If you are not in that group then go see it.

Recommend This Story to a Friend