Washington DC - Defense Secretary Donald Rumsfeld announced the Bush administration was seeking to arrest Hurricane Charley, declaring the intense tropical storm an "enemy combatant."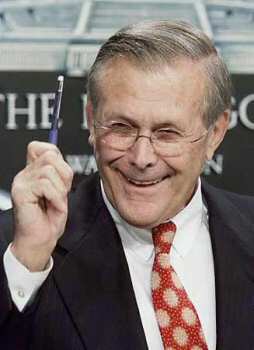 The storm caused billions in damage in Florida and several Atlantic Coast states over the weekend. "We will not tolerate this devastation on American soil," Rumsfeld said at a news conference yesterday. "Charley will pay," he vowed.
It is believed to be the first time a natural phenomenon has been declared an enemy combatant. "This represents a logical extension of the war on terror," said Dr. Arthur Pepper, professor of political meteorology at the University of South Florida. "It also makes sense that Bush would take on this unpopular storm to regain his footing in the polls." Indeed, on the key issue of whom voters trust to handle the weather, the latest poll results show Bush trailing Democratic presidential contender John Kerry by up to six points.
Kerry immediately criticized the administration's move in a campaign speech in Ohio yesterday. While agreeing that Charley was "a menace to freedom and everything else Americans hold dear," Kerry said Bush should have "worked with our European allies to build an international consensus for dealing with Charley." French President Jacques Chirac derided the administration's announcement as "another cheap political stunt." Chirac said that he would be happy to give Charley asylum in France "should he make his way across the sea."
Scientists doubt the administration's announcement will have any significant impact on the war on terror. "Charley has broken up over the North Atlantic, and no longer exists as an organized atmospheric phenomenon," said a meteorologist with the government's National Oceanic and Atmospheric Administration. "There is no scientific basis for the administration's announcement."
When asked to comment on the statement, a Defense Department spokesman said, "Obviously this pencilneck isn't a team player."
More News
Recommend this Story to a Friend