Reviewinator

Trailer
Quicktime
Starring
Director
Alexander Witt
Official Site
Link
US Opening

August 13, 2004

Rated
R
Genre
Horror, Action
Trailer Clichés
Shock wave, over-the-shoulder explosion, quick-cut title splash, rock soundtrack, little girl zombie
Explosions
19
Weapons
Assault rifles, handguns, shotgun, feet-of-fury,
fists-of-fury, rocket launcher, missile, zombie dogs, matches, nightstick, helicopter, tentacle
Voiceover
Yes
"In a world where..."

"Our future is in their hands"

Trailer
Déjà Vu
Tomb Raider 2, Dawn of the Dead
Spoilage Factor
50%
Geek Factor
55% (based on video game)
See Trailer?
No
See Movie?
No
The trailer has a promising start, a fake commercial for Umbrella Corp's Regenerate product, but then it relies completely on standard action/ zombie movie clichés.

It's Dawn of the Dead meets Lara Croft. Milla Jovovich plays a genetically engineered superfighter, who helps a group of people stranded with the undead. They even borrowed the music from the Tomb Raider 2 trailer.

The evil Umbrella Corp, has a secret weapon to clean up their little mistake of infecting a whole town with a zombification virus. It's called nemesis, and he's a zombie on steroids that likes to use weapons.

Trailers like this elicit questions from me like: Why are the people that are stranded with zombies always so well armed? If I were being attacked by zombies, would I try to look cool when shooting them or would I just shoot them? Will Milla Jovovich get naked?

There is a cool visual of Milla running downward on a skyscraper. Of course, she's doing the outrunning-an-explosion gag we've all seen a million times.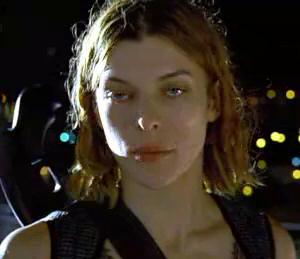 Believe it or not, I am a model.
There's the toss the match nonchalantly over the shoulder and let the explosion happen in the background scene. There's the little girl zombie scene. There's the shock wave in the city that doesn't destroy anything scene. The explosion in the city looks like it was done by an intern who was getting his "Introduction to Photoshop" credit.
To top it all off we get this piece of classic dialog:
"Seal the gates"
"Our men are still out there!"
"Just do it!"
Does it get any more cliché than that?
Conclusion on Trailer: Except for one cool shot, I have seen this trailer before, and it didn't make me want to go see any of those movies either.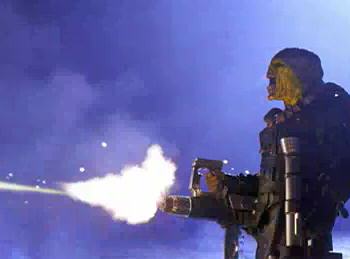 It can't get much more phallic than this.
Conclusion on Movie: This movie is based on a video game AND it's a sequel. It's also the first film for the director. You can't hold out too much hope for it. It would be a better idea to stay home and play the video game than to spend money on this garbage.

Recommend This Story to a Friend