Reviewinator

Trailer
Windows Media
Starring

People who really
needed the work

Director
Hatsuki Tsuji
Official Site
Link
US Opening

August 13, 2004

Rated
PG
Genre
Toymercial
Trailer Clichés
"This summer", "Only in theaters"
Explosions
5
Weapons
Pyramid necklace, incessant marketing
Voiceover
Yes
"In a world where..."

"More powerful than ever..."

Trailer
Déjà Vu
Pokémon Heroes
Spoilage Factor
25%
Geek Factor
20% (Anime, toys)
See Trailer?
No
See Movie?
No
I don't know anything about Yu-Gi-Oh, so to prepare for my review I went to the official movie site to find out more.

From the site: "Infused with ancient magical powers from his Millennium Puzzle, Yugi has been chosen by destiny to prevent the diabolical Shadow Games from returning to the world."

If that makes sense to you then seek counseling immediately. I guess I am better off not knowing. Now to the trailer…

"A movie so bad, we have to give away never before seen cards to bribe you to see it," so opens the trailer for Yu-Gi-Oh: The 90-Minute Infomercial. OK, so it doesn't open that way, but it would be much better if it did.

Of course, there are four cards and they will only give you one, which means you will have to see the movie at least four times to get all the cards. These marketers should be tried for crimes against humanity in The Hague.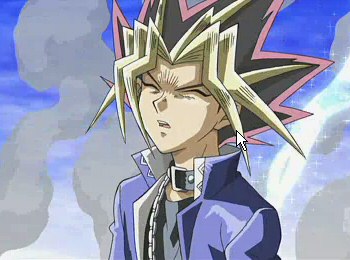 Yugi goes through a much need S & M session, after finishing the movie.
The movie is so bad they could not find more than one minute of movie footage to put in the trailer.
At this point, I want to mention that I have to watch the trailers multiple times to do the reviews. I hope that everyone appreciates the sacrifices I have to go through, when I view crap like the Yu-Gi-Oh trailer twenty times, so you don't have to.
Yu-Gi-Oh is a Pokemon rip off, so it is not surprising the trailer rips off Pokemon Heroes. In the Pokemon Heroes trailer, we get a glimpse of "never before seen Pokemon Latios and Latias!" For Yu-Gi-Oh, it is "Monsters you've never seen before." In both trailers, we are shown the creatures just to ruin any surprise.
It also mentions that it is "only in theaters" like Pokemon Heroes, and we know what that means.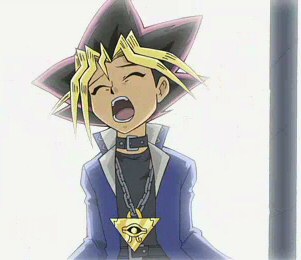 The sun'll come out tomorrow!
Conclusion on Trailer: If you only miss one trailer this year, this should be it.
Conclusion on Movie: If your kids want to see this movie, please don't take them. Use the money you save, to purchase as much lighter fluid as you can. Take the time you saved and gather all their Yu-Gi-Oh and Pokemon paraphernalia. Then put the two together add a match and have a family bonfire. Do your part to save humanity!
Recommend This Story to a Friend