Marin County, CA - LucasFilms founder George Lucas was described as "panicked" when he learned hackers took the digital masters for the final installment of his Star Wars prequel.
"Star Wars III: Revenge of the Sith" scheduled for release next summer has been postponed indefinitely.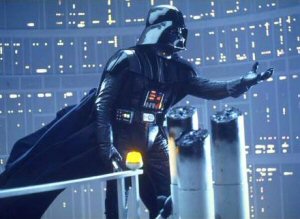 The digital masters for the movie have not simply been copied. The culprits used a Linux "mv" command to move the data to their computers from the LucasFilms network. LucasFilms representative Diane Fortnight clarified "this is kidnapping, not piracy. The 'mv' command can physically transfer binary data between hard disks."
There were no backups made of the digital masters.
"A backup can be stolen," Fortnight explained. "We felt it was too dangerous to keep multiple copies lying around. I guess we learned our lesson the hard way."
LucasFilms has been in contact with Interstellar Film Guarantors, Inc. to discuss ransom options. IFG was bonded to insure completion of the Star Wars film and will suffer heavy losses if the digital masters are not recovered.
Fortnight revealed the hackers have demanded that Lucas builds a rest stop near a fire road traveling through the "Skywalker" estate. The fire road doubles as a public hiking trail and nine competing Jedi religious sects use it as a meeting place.
Fortnight did not know if one of the Jedi sects was behind the ransom demands.
When asked if she expected the digital masters would be returned, she replied, "I've got a bad feeling about this. It may be difficult to secure their release." An IFG spokesperson refused to comment.
Harry Knowles of Ain't It Cool News described the kidnapping as "a devastating loss for Star Wars fans." Considered a leading authority on Jedi sects, Knowles fears "an intergalactic gang war" will break out as each religious group accuses the others of "treachery."
Knowles has his own theory about the kidnapping. "What if I told you the digital masters were now under the control of a dark lord of the Sith?" Sith lords belong to a different religious sect that has sworn to kill every Jedi worshipper. "Clear your mind must be, if you are to discover the real villains behind this plot. The film's disappearance will cause a great disturbance in the force that binds every Jedi sect."
Knowles made a plea to the nine Jedi religions. "Join me, and together we can destroy the Sith and recover the film's digital masters."
More Tech News
Recommend this Story to a Friend