Dallas, TX – Blockbuster Inc. announced the launch of Bookbuster, a new sub-brand of book-rental stores that brings the company's nearly 20-year expertise in video, DVD and game rentals to bear on the world of books.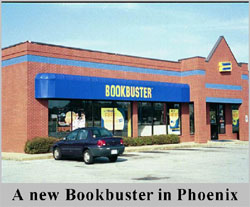 "We're absolutely thrilled to offer our customers an innovative way to experience books, books on tape and a smattering of inoffensive mainstream CDs," said CEO John Antioco. "Bookbuster delivers the convenience, selection and affordability our customers have come to expect and finally makes books available to people who want to enjoy them without having to buy them."
A typical Bookbuster will divide the store into sections for easy browsing, such as Popular Fiction, Biographies, Literature, Entertainment and Science. There will also be a Reference section for dictionaries, encyclopedias and thesauri. For this section, customers may purchase blocks of time in five-minute increments. A wireless buzzer, similar to those used in restaurants, will go off when the time has expired and the customer will be asked to return the buzzer or add more time.
Some customers have expressed concerns about late fees, stating that many books may be difficult to complete within a seven-day period. Antioco is quick to allay such concerns. "Some customers either have hectic schedules or are slow readers. For them, we're pleased to offer the Bookbuster Unlimited™ program," he said. "For a low monthly fee of $19.99, members can rent as many books as they like and read at their own pace, with no late fees and no hassle. If you buy at least one new hardcover a month, the membership will pay for itself."
"'Paradise Lost' is due back Wednesday at midnight," said Julie Garrity, assistant manager at the flagship store in Dallas, to first-time customer Kevin Singer. She then handed the book to him on the other side of a security scanner.
"This is an idea whose time has come," said Singer. "I wanted to read 'The DaVinci Code' a few months ago but couldn't afford to buy it. Now I can just rent it and bring it back in a week. If I'm not done, I just write down which page I was on and rent it again later. It couldn't be easier."
"Books are hot right now," added Antioco. "My 13-year-old tells me they're the 'new movies.'"
A seven-day rental for a new title is $5.99, while older titles and children's books are available for as little as $1.99.
Recommend this Story to a Friend