Reviewinator

Trailer
Quicktime
Starring
Director
Kerry Conran
Official Site
Link
US Opening

September 17, 2004

Rated
PG
Genre
Sci-Fi, Adventure
Trailer Clichés
Crashing spaceship, Outrunning the explosion
Explosions
9
Weapons
Laser pulse, enemy warships, tanks, fighter planes, flying robots, those machines, laser gun
Voiceover
No
"In a world where..."

"This world will end."

Trailer
Déjà Vu
Dark City, Pearl Harbor, Alien
One Word Review
Stylized
Spoilage Factor
35%
Geek Factor
55% (robots)
See Trailer?
Yes
See Movie?
Maybe
A terrified man visits reporter, Gwyneth Paltrow. He tells her the world will end. He looks like a person that would be around after the end of the world, or maybe Gollum's distant cousin. She asks him whom he was so afraid of. He says one name <dramatic pause> "Totenkopf."

I laugh every time she says "Totenkopf." Couldn't they come up with a better name? I keep picturing Gene Wilder appearing after she says that and correcting her. "No, it's Toten-kopf." Maybe it's just me.

The terrified man has good information. Totenkopf is building a doomsday device to incinerate the earth. How nice of him. Jude Law and Angelina Jolie (with an eye patch?) are part of an organization that must save the earth.

Flying robots are appearing out of nowhere, taking what they want and disappearing without a trace. Rather unsettling for a civilization that still has a large supply of blimps in their air force.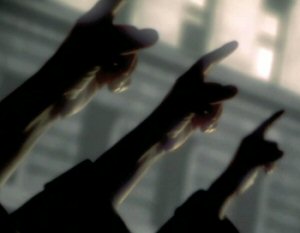 It's a bird! It's a plane! It's the Goodrich blimp!
Then the robots attack in massive numbers. Gwyneth Paltrow says, "Oh my God, it's full of stars" or at least that's what I thought she was going to say.
It is not a fair fight. Our heroes have World War 2 era weaponry while our villains have flying robots, early versions of the Terminator, and a cloaked woman that can shoot lightning.
To complete the 1940s motif, they have run the film through a sepia filter, so while it's not black and white, it might as well be.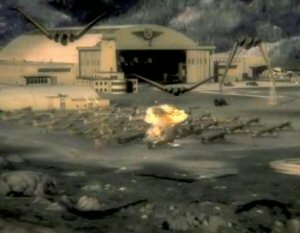 Sneak attack
The parts of the trailer where people are not speaking are great to look at, but whenever the actors open their mouths cornball dialog comes out. I know that's probably how it was intended, but I kept cringing every time they spoke.
And now the fitting way to end this review:
Will Sky Captain save the world?
Will Totenkopf' change his name to something more sinister?
Will Gwyneth Paltrow learn to act?
Find out next time in Sky Captain and the People Who Don't Really Care!
Conclusion on Trailer: I like the parts where the actors are not speaking, but the dialog is corny. The story line looks promising, and not too much is revealed. Worth a look, just to see something different.
Conclusion on Movie: Big stars, but a first-time writer-director. This one could be very good or very, very bad. I do not think there will be a middle ground.

Recommend This Story to a Friend