Reviewinator

Trailer
Quicktime
Starring
Director
Joseph Ruben
Official Site
Link
US Opening

September 24, 2004

Rated
PG-13
Genre
Sci-Fi, Thriller
Trailer Clichés
Ghostly music
Explosions
0
Weapons
Flying glass, SUV, giant vacuum cleaner
Voiceover
No
"In a world where..."

"What if everyone you loved..."

Trailer
Déjà Vu
Dark City, Dawn of the Dead
One Word Review
Creepy
Spoilage Factor
25%
Geek Factor
15%
See Trailer?
Yes
See Movie?
Yes
Julianne Moore plays a happy homemaker. She meets another dad at the park and their children play. Then the eerie music kicks in and things take a turn for the surreal.

Her son disappears from her pictures and scrapbook. She accuses her husband of removing all traces of their son, but he has no idea what she's talking about. A psychologist tells her that some people make up entire alternate lives, and that she never had a son. It gets worse. Next, her husband doesn't even recognize her. Her whole life is disappearing.

She seeks out the man named Ash she met in the park, and he thinks she is crazy. He never had a daughter, but she pulls away wallpaper to reveal drawings that his daughter made. Now she has screwed up his life too.

She's not going crazy. Men grab Ash when he tries to speak with her. She questions, "Who could erase their lives?" And that my friends is what the whole movie hangs on.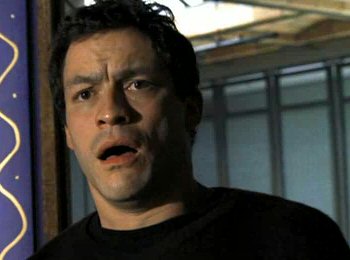 "Do you realize how expensive
that wallpaper is?"
The whole payoff to this creepiness will be discovering what is causing their lives to disappear. If the payoff stinks, then it ruins the entire movie. You leave the theater smacking your head, and wondering why you laid out $10 for it. If it succeeds then you're tossing and turning the rest of the night.
Now, Julianne Moore can act and the director has a long resume of decent movies, but this one hinges on the writer and his credits are not that impressive. That frightens me. There are some good actors though, so that could salvage it, if the payoff isn't stellar.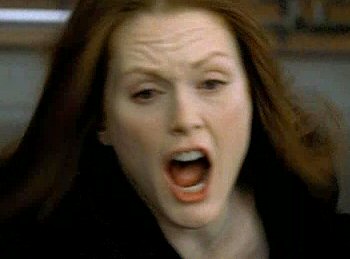 I'm seeing dead people.
Later in the trailer, Ash and Julianne have a man tied up on a chair and tell him that they won't tell anybody if he tells them the truth. He whispers, "They're listening." Of course, he means the Department of Homeland Security and quickly he's sucked up by a giant vacuum. It's even worse than we thought.
Conclusion on Trailer: Great trailer. Creates a creepy atmosphere and builds tension. Doesn't give too much away, so worth a look.
Conclusion on Movie: Doesn't have much competition at the box office, but could be The Village 2.

Recommend This Story to a Friend