Rochester, NY - Eastman Kodak has won its patent infringement case against the Sun. Damages have yet to be determined, and the Sun may still appeal the District Court ruling.
Kodak alleged the Sun "willfully engaged in wholesale infringement of its patent rights." The patent in question covers "a method by which visible light can by emitted from a source, and be used to illuminate."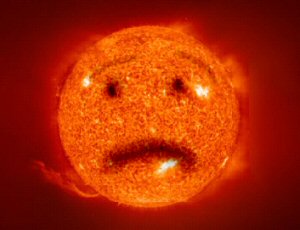 The Sun tried to defend itself by claiming the patent was absurdly broad and obvious and was therefore invalid. In the end, a jury (that was not influenced by Kodak's status as Rochester's largest employer) sided with Kodak, buying Kodak's argument that if "double clicking on a portable device" was a valid patent, why shouldn't this be?
Kodak will return to court in a week for damage claims, and is expected to seek $134.5 Septillion. Kodak spokesperson Jane McNell explained that, "Kodak feels it is entitled to a monetary sum equivalent to the total commercial value of all the energy the Sun has ever produced.
Energy, we might add, that would never have been produced without our patent's disclosure of creating light."
At a press conference shortly after the trial ended, another Kodak representative addressed reporters, saying, "We deeply regret having to resort to legal measures. But, the Sun simply refused to cease and desist its wholesale infringement of our sacred Intellectual Property rights, or properly license it for use. It is as if it was stealing bread from our very tables. We could not stand by any longer. We had to act, and today we have received vindication for our efforts. Our children will starve no longer."
When asked to distinguish between "wholesale infringement" and "regular infringement," the representative declined to comment.
In support of its case, Kodak had previously sent letters to Congress, suggesting that by providing a free and unrestricted energy source, the Sun was effectively supporting terrorists and aiding rogue nations like North Korea, stating, "The Sun's energy could be used to power solar panels on sharks with lasers mounted on them. And ninjas. Don't forget about the ninjas. 9/11." It further suggested that only by applying mandatory Digital Rights Management limits to the Sun's energy could terrorists be prevented from exploiting it.
In response to the verdict, the Sun told reporters "This is fucking bullshit."
Recommend this Story to a Friend