Reviewinator

Trailer
Quicktime
Starring
Director
David S. Goyer
Official Site
Link
US Opening

December 8, 2004

Rated
R
Genre
Comic, Vampire
Trailer Clichés
Hero walk, "This December", bullet time, Matrix landing, quick-cut title splash
Explosions
6
Weapons
Machine gun, blade, sword, assault rifles, handgun, compound bow, wristblade, feet-of-fury
Voiceover
Yes
In a world...
"We're gonna have to take on the rest of the world..."
Trailer
Déjà Vu
The Matrix, Two Guys, a Girl and a Vampire Apocalypse
One Word Review
Uninspiring
Spoilage Factor
40%
Geek Factor
45%
See Trailer?
Yes
See Movie?
No
Blade Trinity is the third installment of the half vampire, half-human vampire killer saga based on one of Marvel's comic books.
The trailer opens with "experts" discussing rumors of vampires on one of those cable news talk shows. They scoff at the idea of vampires, and say the real problem is sociopaths like Blade.
The police capture Blade and charge him with trying to take a sword onto an airplane, which is punishable by death under the Patriot Act. Fortunately for Blade, the police are just pawns of the vampires. Even more fortunately, he is rescued from the vampires by Jessica Biel (not Alba, but either one would've worked) and the smart-ass guy from Two Guys and a Girl.
Now here comes the cleverest wordplay in the history of film. Together the three of them form a "Trinity", and this is the third movie in the series. Trinity… Three… OK, so it's not very clever.

The vampires don't just sit back and let the Trinity pound stakes into their hearts. They have the "Final Solution", the first vampire, who was born perfect. This elicits a strange quote from the Two Guys guy, "This guy has never had to evolve." When I think of perfection, lack of evolving is not the first concept that comes to mind.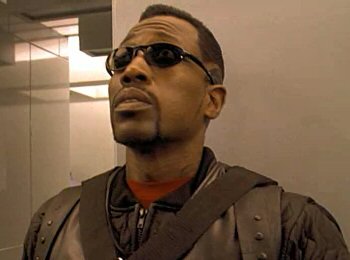 "Holy crap! Is that Jessica Biel naked?"
A better name for this trailer would have been Blade Matrix, but then Trinity was in The Matrix <smacks forehead>. Another clever wordplay. As well as the Trinity connection, there is some dodging bullets in bullet-time, a Matrix "landing" and several Matrix-y fight scenes.
Jessica Biel plays Whistler's daughter, or maybe it's Whistler's mother (for yet another clever wordplay). Too much of the trailer focuses on her slow-motion hair flips, and not enough on Jessica Biel naked. (I note that not out of some innate lecherous trait, but of a greedy desire to get plenty of "Jessica Biel naked" Google search hits).
Another Jessica Biel high point is the phantom punch. She knocks down two bad guys with one punch. The punch clearly misses the second guy, which does not give me much hope for the action sequences.
Conclusion on Trailer: Blade is uber-cool, but this trailer suffers from too much generic action sequences, and too much time making the characters look "cool". Worth a download to see Jessica Biel naked though.
Conclusion on Movie: Die-hard fans of the series are going to see it anyway. Those with less interest in vampires should probably wait for the DVD.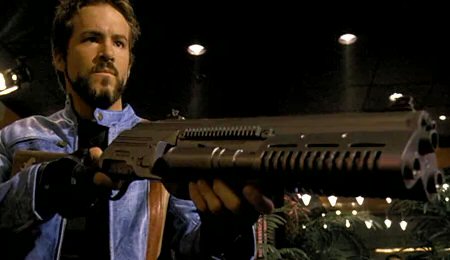 "Say hello to my little friend!"
Recommend This Story to a Friend