Reviewinator

Trailer
Quicktime
Starring
Director
David S. Goyer
Official Site
Link
US Opening

December 17, 2004

Rated
PG-13
Genre
Action, Adventure
Trailer Clichés
"This Holiday"
Explosions
3
Weapons
Propeller, SAND STORM!, deep hurting, rifles, handgun
Voiceover
No
In a world...
"The only way out is up."
Trailer
Déjà Vu
Con Air, The Mummy
One Word Review
Revealing
Spoilage Factor
85%
Geek Factor
25%
See Trailer?
No
See Movie?
Yes
********************** SPOILER ALERT ***********************
That's what they should've put at the beginning of this trailer for Flight of the Phoenix, but trailer creators aren't as considerate as I am. Consider yourself warned, this trailer review contains spoilers.
The trailer opens with a plane taking off from a desert runway. They encounter a SANDSTORM, which causes DEEP HURTING for the plane and some of the passengers. They are in the middle of deepest nowhere. Then the neo-Nazi engineering comes up with an ingenious plan. They will try to build a smaller plane from the wreckage of the first, and fly that out of the desert.
If that's all that was revealed in the trailer, it wouldn't have needed a spoiler warning, but wait there's more. First, they lose control of a wing as they try to attach it to the new fuselage, but we see that the character survives. A giant electrical storm attacks them, endangering the rebuild, but we see they survive that as well.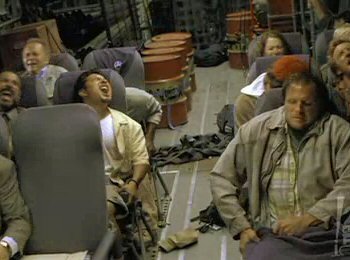 I've been on flights like that
Finally, they are attacked by hordes of Mongolian nomads. Will they survive this final attack and fly the plane out of the desert? The trailer couldn't possibly reveal that fact, could it? It does. We see the completed plane, and see it flying.
What else is left? Does the plane crash again? Do they have to build a unicycle from the remaining parts to cycle to safety?
The producers of the trailer must have assumed that everyone saw the original version of the film. There might be a twist or two added from the original, but couldn't they leave more unseen for those of us who haven't seen it?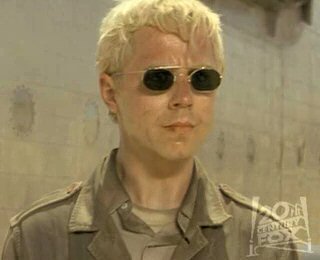 Peroxide Uber Alles
To pile on even more revelations, they show the coolest special effect in the movie, a prop from the plane detaching from the engine and ripping through the fuselage.
Conclusion on Trailer: This trailer reveals too much. No need to see the movie after watching the trailer.
Conclusion on Movie: If the trailer doesn't ruin it for you, this could be a fun movie.

Recommend This Story to a Friend