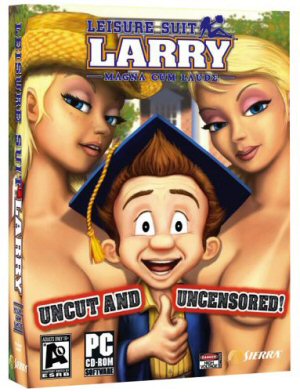 This is the first video game review that I have written for BBspot. With my computer, the most graphic intensive game I can play is Nethack, so I couldn't review any of the current games. I had hoped to have my new computer by now, so I agreed to review Leisure Suit Larry: Magna Cum Laude: Uncut and Uncensored. Unfortunately, my new computer is still but a dream.
I know the specs to run this game are pathetic, but my system was still below the bottom end. I had to borrow a Radeon 7000 from a friend to get the thing going. Even then, I had to turn off every task other than the game to get acceptable game play. Now you know why I'm buying a new computer. Most of you I'm sure have a system like mine in your house, but it's your third or fourth back up system that you let your dog surf the Internet with.
The game is a continuation of the long dormant Leisure Suit Larry series. In this incarnation, Larry Laffer has been replaced by his nephew Larry Lovage, who attends Walnut Log College.
This is the uncut and uncensored version of the game, and it certainly deserves its A rating. I had to make sure the kids didn't venture down into the basement while I was playing. Dad wearing lipstick I can explain more easily than naked babes bouncing on trampolines on the computer screen. "It's for daddy's work sweetheart. You want to go to Disney World, don't you?"

To win the game, Larry has to conquer enough babes to get on the reality dating show Swingles. On the show, Larry will get a chance to bed one of three lovely contestants.
To conquer the babes Larry has to win various mini-games like quarter bounce, pong, whack-a-mole, tapper and others. If that doesn't sound too exciting, it isn't. The first time playing them can be fun, but often you have to play them multiple times to win the quest and that can get repetitive.
The best of these mini-games, but often the most difficult to win is the "chat game." You guide Larry's conversation by navigating a sperm through obstacles. Hit the right targets and Larry says the right thing, hit the wrong targets and he says something not so good. These often turn into rather hilarious conversations. Not to give too much away, but one of the conversations about Hayden Christensen was particularly funny. One of the conversations also included mention of Babylon 5 warships.
What most people playing the game want to know about are the babes. There are plenty of them of various shapes and sizes. I can only imagine what they could've done with more polygons.
Another problem I had with the game was much time was spent wandering through areas just to get to the next quest. This wouldn't be so bad, but each time you go to a new area there is a loading screen. This can cause a long delay just to walk through an area you've been through twenty times already. A teleporting system would've made the game much more enjoyable.
I don't think I unlocked all the secrets of the game, but I did conquer all the women and complete the side quests to win the Swingles date for my one-on-one action with Morgan.
Pros: Boobies, Funny dialogue
Cons: Repetitive game play, loading times
Full Disclosure: I was given the game to review, and was paid to run ads for the game.
Recommend This Story to a Friend