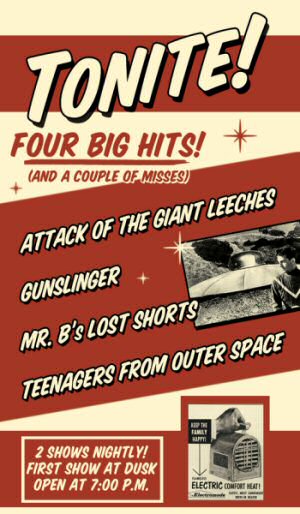 Often I get marketing firms wanting to send me games or DVD to review. I am all for getting free stuff, but it mostly has been items that aren't for the BBspot audience (some Oxygen show) or so bad, I don't think they would want me to review it. I am not about to be some Entertainment Tonight show that acts like some PR mouthpiece. However, one company asked me if I would review the four DVD set of Mystery Science Theater 3000 (MST3K), Volume 6.

Now here is something that I enjoy, that's targeted for my audience and they want to send it to me free. That's something I'm willing to do.
For those of you who aren't familiar with MST3K (shame on you) check out the informative Wikipedia entry for it. The short version is that Joel and his robot friends watch the worst movies and make fun of them. Something everyone likes to do.
I'm not going have a Joel vs. Mike debate (or maybe I will in the Mailbag), but I was happy to see the shows included on these DVDs all had Joel. Some like Mike, some like Joel, I like Joel.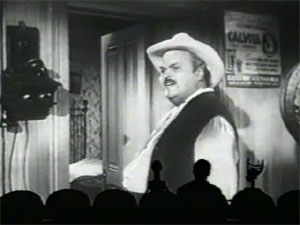 It has probably been seven or eight years since I've watched the show. Popping in the first disk and hearing the theme song took me back to the early 90s.
Volume 6 consists of four disks. Three are episodes in their entirety, and one of the DVDs contains six shorts. There are no extras on the DVDs, which is a bit disappointing. I was hoping for something, anything!
Disk 1 contains the Roger Corman film "Attack of the Giant Leeches" and the short "Undersea Kingdom." The short was so bad it was good. "Leeches" is a classic bad monster movie set in the swamp lands.
Disk 2 has another Roger Corman production "Gunslinger" about a woman who takes over the job of Marshal in a small town after her husband is killed. This one was my least favorite of the four disks, but still funny.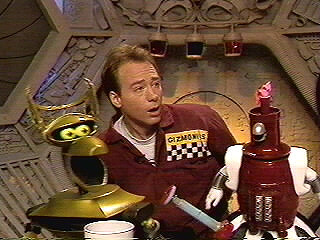 Disk 3 has the shorts "Mr. B Natural", "X Marks the Spot", "Hired Part 1", "Design for Dreaming", "Johnny at the Fair" and "Are You Ready for Marriage". My favorite of all the disks. Mostly for the "Mr. B Natural" and "Are You Ready for Marriage" shorts which had me rolling.
Disk 4 has "Teenagers from Outer Space." The plot for this movie seemed like a high schooler wrote it. Aliens come to use earth as a breeding ground for their giant lobsters, but a conscientious alien who read a book befriends the earthlings and saves them. The producers didn't even bother to change a lobster in any way. The movie was horrible, but the commentary by Joel and the bots was great.
From my experience, the DVDs are best watched in a group, so you can make your own wisecracks. A couple beers didn't hurt either.
Overall I enjoyed watching the DVDs very much. I laughed a lot, and they brought back good memories. The episodes were not the best I have ever seen, but they were solid and entertaining. The shorts disk definitely had some classics on it and had me rolling.
Full Disclosure: I didn't get paid for the review, but they did send me the DVDs. If you buy the DVD or anything from Amazon by using the links I give, I get my regular Amazon commission. I hope that I will get some more geeky, high-quality DVDs or games like this to review or give away in the future.

Recommend This Story to a Friend