Reviewinator

Trailer
Quicktime
Starring
Director
Uwe Boll
Official Site
Link
US Opening

January 28, 2005

Rated
R
Genre
Video Game Adaptation
Trailer Clichés
"This January", Overhead city shot
Explosions
5
Weapons
Assault rifles, handgun, Kung-fu fighting, monster, helicopter, tentacle, chaingun
Voiceover
Yes
In a world...
"Some gateways should never be opened..."
Trailer
Déjà Vu
National Treasure, The Relic
One Word Review
Dark
Spoilage Factor
30%
Geek Factor
35%
See Trailer?
No
See Movie?
No
Uwe Boll directs this week's victim in our Trailer Review. It's only a coincidence that we published an article about Uwe Boll directing Counter-Strike: Movie earlier this week. In fact, I thought we might skip a Trailer Review this week, because nothing looked geeky enough. However, I saw a comment on IMDB.com that Alone in the Dark is based on a video game. Lucky me.
The trailer opens with Christian Slater saying that he learned long ago that "being afraid of the dark is what keeps most people alive." I thought it was our internal organs, but who am I to question the Great Christian.
The voice of god then tells us that "Some gateways should never be opened." Guess what they do. They OPEN THE GATEWAY! You would think somebody could invest ten dollars in a sign that says "Do Not Open Gateway" with a big biohazard symbol or something scary. Then we wouldn't have monsters spawned from the depths of Hell coming to destroy humanity.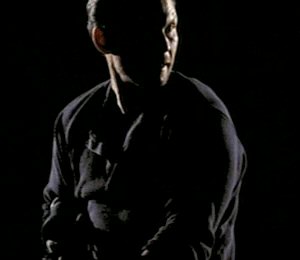 Lighting was not a priority.
The rest of the trailer shows the badly rendered monsters jumping around and breaking antiquities while people shoot at them with powerful weapons. Not powerful enough, since the monsters remain uninjured.
When you don't have a big CGI budget, make the set dark, so you don't have to put much detail into your effects. The CGI budget for this one must have been almost nonexistent because you can hardly see anything that is going on.
Here's my plea to Hollywood: Please stop making video game to movie translations. Especially of video games that most people have never heard of.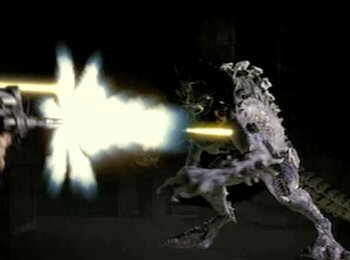 Video games look more realistic than this.
Conclusion on Trailer: Only use this trailer as a warning to avoid the movie, if you don't believe my recommendation below.
Conclusion on Movie: Director with a bad history. No star power. Bad special effects. Based on a video game. What more do you need to hear? Treat this one as if it has a biohazard symbol on the theater door.
Not sure if you should believe me? Check out the Dysfunctional Family of Five review at DeadBrain.

Recommend This Story to a Friend