Reviewinator

Trailer
Quicktime
Starring
Director
Rob Bowman
Official Site
Link
US Opening

January 14, 2005

Rated
PG-13
Genre
Action, Comic Book
Trailer Clichés
"This January", city-sized explosion, bullet dodging, "From the forces that brought you..."
Explosions
3
Weapons
Sword, compound bow, machine gun, sai, hand gun, big log
Voiceover
Yes
In a world...
"Choose your destiny..."
Trailer
Déjà Vu
X-Men, Catwoman
One Word Review
Boring
Spoilage Factor
0%
Geek Factor
20%
See Trailer?
No
See Movie?
No
Every comic book will have a movie made out of it. The trend cannot be stopped. We must endure. All will get their chance. Sad Sack in 2006. Believe it.
Mr. Voiceover, in his deep gravelly voice says, "For centuries those with extraordinary powers have waged a war for supremacy." Woohoo! It's X-Men 3! Sorry, it's only Elektra. Brought to you by the same forces that brought you X-Men, greed and mediocrity.
One of the mutants has tatoos that come to life. He's got a wolf on his stomach, and a hawk on his shoulder. Too bad he didn't have a dragon or a tank inked on his back, those would probably be more deadly.
Mr. Voiceover continues, "In between good and evil stands a warrior…" in red lingerie throwing a sheet into the air. All evil will bow down before the red she-devil with the perky breasts and super sheet tossing powers.
The action in the trailer takes place at a ninja training ground in the middle of a forest. Elektra trains a young prodigy in the martial arts, and then she must protect her. I'm not sure whom she's supposed to protect her from.
Now you don't need to watch the trailer
There are the mutants we see at the beginning, and there are some white and black-clad ninjas. Not sure what they want the prodigy for. It looks like they can fight well on their own.
Jennifer Garner is attractive, but the flourishes seem a bit too feminine for an action movie. Is this movie targeted at 10-year-old girls? Sure, men will want to ogle Jennifer in her hot Elektra outfit, but do they want to see her throwing sheets into the air and ballet dancing?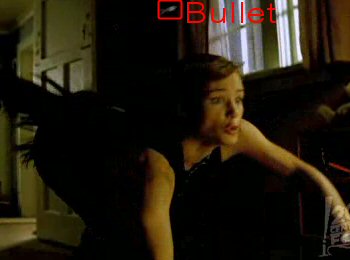 Yet another bullet-dodging superhero
One good thing about the trailer is that Ben Affleck does not appear in it at all. Neither does Colin Farrell for that matter. This one rates around where The Punisher did. Nothing to see here, move along.
The last half of the trailer is a jumbled mass of action. Elektra tripping people and jumping around in the forest. It's not that exciting. The premise isn't compelling. Why should I see this movie? The answer should be in the trailer but it isn't.
Conclusion on Trailer: The trailer just seemed confusing to me. I wasn't sure who was good. Who was bad. Or why I should care. It could be the codiene talking, but I doubt it.
Conclusion on Movie: Jennifer Garner sure is purty, but better to watch Alias instead. Cheaper anyway.
Need a second opinion. Check out the Dysfunctional Family of Five review of Elektra.
Recommend This Story to a Friend