Reviewinator

Trailer
Quicktime
Starring
Director
Francis Lawrence
Official Site
Link
US Opening

February 18, 2005

Rated
R
Genre
Comic Book Adaptation
Trailer Clichés
"Coming Soon", Bullet Time
Explosions
5
Weapons
Electricity, dragon's breath, cross gun, flying glass
Voiceover
No
In a world...
"Earth needs him..."
Trailer
Déjà Vu
The Matrix
One Word Review
Keanu
Spoilage Factor
25%
Geek Factor
45%
See Trailer?
Yes
See Movie?
No
The opening for the trailer is shocking, literally. Keanu Reeves sits in a chair and a man throws water over Keanu's bare feet. The man then jabs Keanu with a highly charged shock stick. He writhes in agony. Serves him right.
He tells us that God and the Devil made a wager for the souls of humanity. They could not make direct contact with humans, but they could use their influence. It's not clear where Keanu fits in, but it appears he can talk to angels and to demons. He's got a strange looking gun, but he never uses it.
He might be a protector of humanity, or he may just be a bad actor. Wait, I guess he could be both.
Rachel Weisz knocks on his door asking for help and like any man with ambiguous sexuality, Keanu shows her in then points her to the door. For some unexplained reason she wants to see what Keanu sees. To do that she must submerse herself in a bathtub. Then the bathtub must explode. I won't go into detail how she does it, but it involves eating many bowls of beans before.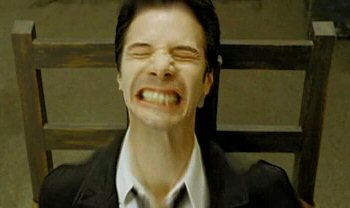 Dude!
There is sound and fury, but nothing gets explained. The Devil appears (I assume it's the Devil since he's well-dressed) and breaks some glass just for fun. That's EVIL! Somebody has to clean all that up.
I don't mind the ambiguity in the trailer, in fact, it is refreshing. A trailer that doesn't give everything away. There are only quick glimpses of the demons and the Devil, so there will be some surprises left for the film.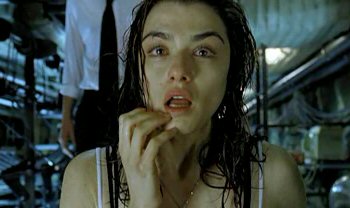 "You mean this isn't The Matrix 4?"
This film is another comic book adaptation, but it looks much better than Elektra despite the lack of Jennifer Garner.
Conclusion on Trailer: Interesting visuals and Keanu getting shocked. Also, Rachel Weisz in a bathtub, if you're into that sort of thing.
Conclusion on Movie: Let's check the scorecard here. Comic book adaptation: Check. First time director: Check. Keanu Reeves: Check. That adds up to: wait for the DVD.
Not sure if you should believe me? Check out the Dysfunctional Family of Five reviews at DeadBrain.

Recommend This Story to a Friend