Reviewinator

Trailer
Quicktime
Developer
Ubisoft
Official Site
Link
US Release

March 25, 2004

Rated
M (Blood, intense violence)
Genre
First person shooter
Gamebox Clichés
Quote from gaming website, awards, system requirements
Explosions
6
Weapons
Assault rifle, helicopter, sniper rifle, rocket launcher,
Flip Cover
Yes
In a World...
"Paradise gone wrong...."
Game Box
Déjà Vu
My Haiti vacation
One Word Review
Tropical
Spoilage Factor
15%
Geek Factor
80%
See Box?
Yes
Play Game?
Yes
We once again take a break from Geek Horoscopes to review the boxes of games for which I don't have a PC powerful enough to play. This week we look at the tropical island killer, Far Cry.
Far Cry comes in a standard size box with a flip cover. Unlike Doom 3, there is no handy piece of Velcro to keep the cover closed, so the cover may open slightly. A sign this box maker might be a bit tight with the design dollars.
However, the front cover allays all fears, what they saved on Velcro they make up in artwork. A bright, colorful graphic takes the viewer away to a tropical paradise. Although, one with a bloody, scar-faced man comes out of the water with an assault rifle and helicopters destroy buildings with missiles, but at least there is sand. The guy in the water does not look too happy and if I had to wear that tropical camouflage, I wouldn't be happy either. The two sides and the top of the box provide a wrap-around effect for maximum panoramaness. The top and sides also contain the Far Cry logo which looks like it's been shot by a gun a few times. Maybe they shouldn't have left it on the target range. They all contain the Ubisoft logo in case you cared who made the game.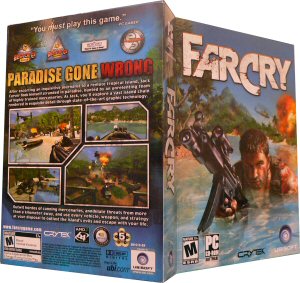 The bottom of the box shows a standard UPC symbol, "Made in the USA" logo, Ubisoft logo and address, and a list of reasons I can't play the game on my computer. This time, the requirements for a 1 GHz processor and a 64 MB seal my fate.
The back of the box is busy and it takes a moment for a viewer to quiet the kaleidoscope of color in their mind. There's the obligatory "You MUST play this game." Quote from PC Gamer (it doesn't say which PC gamer, probably just some random gamer off the street). Below the quote are four awards that it won. Strangely, two of the awards are identical. One says Best of E3 2003, and the other is Best of E3 Award. Both are from IGN.com. Since, most people don't care about awards; it is not a big deal.
Next, we see "Paradise Gone Wrong" and some background information and hyperbole on the game. Terms like "exquisite detail", "state-of-the-art" and "hordes of mercenaries" are thrown around. Below that is the required rating (M) and a whole boatload of logos. There is Crytek, AMD, Nvidia, Dolby, and Ubisoft. A little graphic also tells me that this is the 5 CD set, which is a vivid reminder that I could've gotten this on one DVD if I had a better computer. A large chunk of space is taken up explaining all the logos and trademarks of logos, just in case anybody got the idea in their head to cut the logos off the box and sell them on a t-shirt. Don't do it.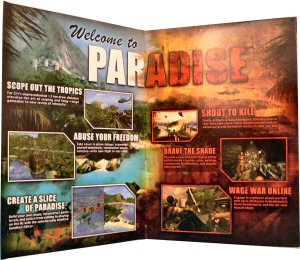 Now to the inside cover. The inside flip cover is broken into two contrasting halves. The bright and cheery left half and the blood-red right half. A yin and yang of box design. On the left, you can "Scope out the tropics" or on the right, you can "SHOOT TO KILL". On the left, you can "Create a slice of paradise" or on the right, you can "WAGE WAR ONLINE". The right side also shows some scenes you could only survive in a video game. Two helicopters and six men assault you with automatic weapons, but look, you survived. Another scene shows four men only 10 feet away strafing you with automatic weapon fire. Miraculously, you survive that too.
The inside of the box is standard white and rather ordinary. Just once, I'd like to see some time spent on the inner box design.
Conclusion on Box: Very nice design. Explains the requirements, background of the game and many of the exciting features of Far Cry. A definite must-see.
Conclusion on Game: Total carnage, I love it.
No games were played in the making of this review.

Recommend This Story to a Friend