Reviewinator

Trailer
Quicktime
Starring
Director
Lawrence Guterman
Official Site
Link
US Opening

February 18, 2005

Rated
PG
Genre
Lame Comic Adaptation
Trailer Clichés
"From the Director of...", "This February", "Coming Soon"
Explosions
1
Weapons
Bow and plunger
Voiceover
Yes
In a world...
"The next generation of mischief"
Trailer
Déjà Vu
Cat in the Hat
One Word Review
Sucks
Spoilage Factor
Who cares
Geek Factor
0%
See Trailer?
No
See Movie?
No
When the first images of a trailer bring back memories of the "Cat in the Hat" trailer, prepare to vomit. When the rest of the trailer makes you wish it were for "Cat in the Hat", then its time to bring out the thesaurus.

Abhorrent, abominable, appalling, awful, beastly, cruel, detestable, disagreeable, disgusting, dreadful, execrable, ghastly, gruesome, heinous, hideous, horrendous, horrid, loathsome, lousy, obnoxious, offensive, repellent, repulsive, revolting, scandalous, shameful, shocking, terrible, terrifying, ungodly, unholy, unkind, all describe perfectly this sad excuse for a trailer.
I show no forgiveness just because this trailer is targeted at children. This one appears to be made for brain-damaged, blind children with only 20% hearing. Actually, those are the only children you can safely take to the movie without worry of further harm.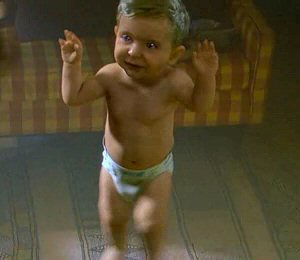 Floating babies are a bad sign
The voiceover introduces "Otis" as the dog "Otis". That dog has a good agent. Most introductions like that are saved for hot young actors. The introduction is made even more ridiculous because half the time the dog is a CGI cartoon. And really, does anybody care that the dog's name is Otis? Will the opening box office increase because "Otis" is in the movie?
Halfway through the trailer (if you can make it that far) you might start feeling sorry for the people involved in the movie. Questions like "What were they thinking?" and "Why wasn't this released straight to video?" begin to circulate in your brain.
Ben Stein appears in the only mildly entertaining moment of the entire trailer. He says "Ouch" like only Ben Stein can. However, not even Ben Stein makes this horrific piece of trash worth seeing.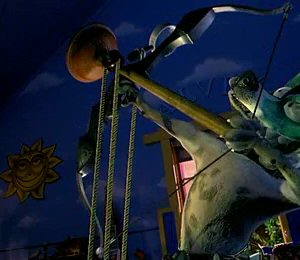 Plunger shooting dogs are even worse
Conclusion on Trailer: The leading candidate so far for worst trailer of the year. Do not view the trailer under any circumstances.
Conclusion on Movie: Alone in the Dark and now this? Critics will begin asking for extreme hardship bonuses. Don't take your kids to see it. Don't take your dog to see it. Picket the theaters.

If this review seems a bit short, it's only because I couldn't bear to watch the trailer any more than a few times.
Not sure if you should believe me? Check out the Dysfunctional Family of Five reviews at DeadBrain.

Recommend This Story to a Friend