Los Angeles, CA - Motion Picture Association of America President and CEO Dan Glickman announced a bold new strategy to combat the "pernicious effects of piracy". After many failures to stop piracy by technological and litigious means, Hollywood will rely on psychological tactics to thwart would-be file-swappers by making only movies that suck.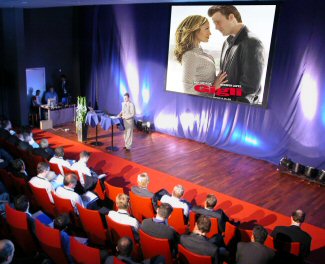 Using one-dimensional characters and predictable plots lines, movies will be so insulting to the intellect of the viewer that no one that can use a computer would bother to download them.
The MPAA has already tested the method in releases such as Baby Geniuses 2, Son of the Mask, Alone in The Dark, and Coach Carter. In a focus group of computer-literate adults, test films were able to elicit such reactions as, "Oh God, why," "I want those two hours of my life back," and "I'll be skull-fucked by imps before I ever sit through that horseshit again."
"We are sending a clear message to pirates," said MPAA Chairman Dan Glickman, "One way or another; you will pay for your crime. Your punishment may come in the form of a lawsuit, or in the mind-numbing mediocrity of Gigli, but you will be punished.
When asked how the changes would effect box office sales, Glickman responded, "We think the success of Hilary Duff has shown there is plenty of money in releasing movies that suck." Pressed specifically about the buying power of the intellectually underdeveloped market, Glickman countered, "Are you suggesting we have overestimated the idiocy of the public?" Glickman and Glickman then snickered uncontrollably.
Hollywood will eventually only produce movies based on canceled TV series. For the near future, studios are rushing to raise the suck level in existing franchises. Ashton Kutcher will replace Toby McGuire as Peter Parker in Spider-man 3. The film rights to The Hobbit have been wrestled from Peter Jackson and given to George Lucas. In addition, Joel Schumacher will direct and star in all future films from Pixar Animation Studios.
Recommend this Story to a Friend