Reviewinator

Trailer
Quicktime
Starring
Director
Florent Emilio Siri
Official Site
Link
US Opening

March 11, 2005

Rated
R
Genre
Action, Thriller
Trailer Clichés
Quick-cut title splash, "Coming Soon"
Explosions
4
Weapons
Handgun, assault rifles, lighter
Voiceover
No
In a world...
"The house holds a secret..."
Trailer
Déjà Vu
Panic Room
One Word Review
Interesting
Spoilage Factor
65%
Geek Factor
15%
See Trailer?
Yes
See Movie?
Yes
Die Hard is one of my favorite action movies, but since Die Hard 2, Bruce Willis hasn't made a good action movie. He hasn't even had a good trailer for a couple years. The trailers for "Tears of the Sun" and "The Whole Ten Yards" were terrible, as were the movies. Finally, with Hostage we get a Bruce Willis trailer that doesn't suck.

This trailer reminds me of Panic Room except in reverse. A few burglars break into a house, and things don't go as planned. A cop ends up dead, and a simple burglary turns into a hostage situation. The burglars push the panic button, and lock themselves in the maximum-security house with their hostages.

Bruce Willis heads the local police force, and he's in charge of the hostage negotiations until the FBI arrives. Unfortunately, for Bruce there's something in the house that some other bad guys want. They kidnap Bruce Willis' family to force him to get it out. That's the source of the film's tagline, "Would you sacrifice another family, to save your own." Short answer, yes.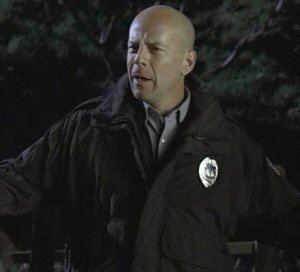 What? Surprised to see me
in a good trailer?
There's some misdirection about what the bad guys want out of the house. First, the robbers open some duffel bags and find a surprise. Then we're led to believe it's some files that we see encrypting. My guess is that it's Half-Life 3.
This trailer shows a bit too much of the plot. We learn of the double hostage plot twist. We see the house burning down. We see kids crawling through air ducts like Bruce in Die Hard. We see Kevin Pollack getting smashed in the face (hopefully we'll get to see more of that in the movie).
Conclusion on Trailer: Great suspense and explanation of the story line. Reveals too much, but promises to have more surprises. Worth the download.
Conclusion on Movie: The director is inexperienced, but the plot looks compelling. Bruce Willis can sometimes carry an action movie and this one looks up his alley. Worth a look.

Not sure if you should believe me? Check out the Dysfunctional Family of Five reviews at DeadBrain.

Recommend This Story to a Friend