Washington , D.C. - Former First Lady Hillary Clinton is supporting what could be the most unique bill to ever hit the Senate floor.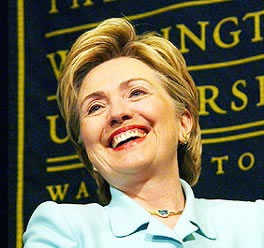 "The government's job is to protect its citizens," said Mrs. Clinton, "that includes immoral thoughts and actions. That's all we're trying to do here, keep immoral thoughts from good Americans.
"Daydreams have no controls, no warning labels. Children can just think of anything they want. We cannot have that."
This bill shouldn't come as a surprise to those who have been following Clinton lately. Her most recent attack was directed against video games, where she's been trying to criminalize the popular Grand Theft Auto series. She believes that games such as GTA pose a "major threat" to moral health in our society, since many people "can't distinguish between reality and fantasy."
The "Freedom from Immoral Thoughts Act", co-written by Senator Liebermann, will potentially outlaw any "uncontrolled or wandering thought" between the hours of 6 AM and 9 PM. People with "glazed or unfocused demeanors" will be arrested and detained for questioning.
"Many people just can't tell the difference between a fantasy world and reality, especially children. Why should we outlaw video-game fantasy but not daydream fantasy? They're equally dangerous. In fact, daydreams are more realistic!" stated Clinton in a recent radio interview. "We've been trying to illegalize these immoral games for years, why should we stop there?"
Recent polls show most Americans against the idea, with over 70% calling it "Orwellian and Authoritarian," another 26% are against it but don't know those words, and 3% are undecided.
"I don't see what the big deal is," said Majority Leader Tom DeLay, "Daydreams should have been taken care of long ago! Can you just imagine what children- thirteen, fourteen years old- are thinking about? Hell, they have sex fantasies way more graphic than some pixelated fantasy game! We have to act now, or some children will just think the fantasy world is perfectly acceptable!"
Opposition groups, backed by the ACLU, are planning protests across major cities this week. Estimated turn-out is in the dozens.
A written statement from the White House supported the act in theory, although expressed concerns over its enforcement. "We look to find a more streamlined way of controlling what Americans can think about," it stated, and later mentioned a "compulsory thought-helmet" they are looking to develop.
Recommend this Story to a Friend