Reviewinator

Trailer
Quicktime
Starring
Director
Garth Jennings
Official Site
Link
US Opening

April 29, 2005

Rated
PG
Genre
Sci-Fi, Comedy
Trailer Clichés
All of them
Explosions
10
Weapons
Vogon destroyer, face smacker, lasers
Voiceover
Yes
In a world...
"In a world... but sometimes not. "
Trailer
Déjà Vu
Comedian
One Word Review
Satiric
Spoilage Factor
35%
Geek Factor
95%
See Trailer?
Yes
See Movie?
Yes
Fans of the Hitchhiker's series have been eagerly awaiting this movie for years, and hoping beyond hope that it doesn't suck. If this trailer is any sign of the quality of the movie, then their wait will be rewarded.
This trailer satirizes trailer clichés. It mentions the quick-cut title reveal, the man with the deep voice, explosions, women in bikinis and of course, "In a world". The choice of doing a trailer satire is clever marketing. Most fans of the book wouldn't be swayed by a real movie trailer, but making fun of a movie trailer, now that's what appeals to them. Rather fitting for a series of satire books. The trailer also manages to give some plot exposition as well.
It opens with the Hitchhiker's Guide itself and its definition for movie trailers. It says they are designed to give you an idea about the movie in a short amount of time. I don't agree with that. Movie trailers are designed to get you to go see the movie, and if that happens to give you an idea about the movie then that's a bonus. As displayed by many trailers, the creators don't care if it misleads you about what the movie is about, as long as it creates "buzz".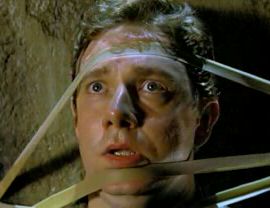 After the definition, there is a brief introduction into what happens. Earth is scheduled to be destroyed and Arthur will hitch a ride on a spaceship. That's about all the plot we get, but what more do you need?
While having nothing to do with the movie, the introduction of the deep voice (or "Voice of God" as he is known), is also funny. "A deep voice that sounds like a seven-foot tall man who's been smoking cigarettes since he was a child."
Like the books, the trailer is funny because it's true. Trailers do have many explosions, and try to blow away your last remaining synapses.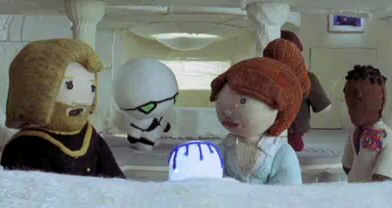 Conclusion on Trailer: This trailer has it all, or at least it makes fun of it all. I like the satire, and it made me more interested in the movie, so it did its job well.
Conclusion on Movie: HHGG has many rabid fans who will tear apart any deviation from what has gone before. I suggest taking a chill pill and watching the movie with an open mind. If the trailer is a good sign, it might just be entertaining to those who can let go anyway.
Not sure if you should believe me? Check out the Dysfunctional Family of Five reviews at DeadBrain.

Recommend This Story to a Friend