Reviewinator

Trailer
Not Yet
Starring
Director
Breck Eisner
Official Site
None Yet
US Opening

2006

Rated
Not Yet Rated (but most likely PG)
Genre
TV Cartoon Adaptation
Trailer Clichés
Quick-cut title splash, "Coming Soon"
Explosions
3
Weapons
Icicles, laser gun, invisible plane
Voiceover
Yes
In a world...
"Only the Wonder Twins can save the Earth..."
Trailer
Déjà Vu
Superman
One Word Review
Activating
Spoilage Factor
25%
Geek Factor
10%
See Trailer?
Yes
See Movie?
Yes (paid commercial announcement)
We don't usually cover trailers until the movie is near release, but this time we're making an exception. Warner Brothers contacted us to see if we could get some early buzz going about their upcoming "Wonder Twins" movie. You remember Zan and Jayna right? I'm not out to pimp something without getting compensated, but I settled for a sneak peek at a trailer before anyone else. What can I say, I'm cheap.
I can't link to the trailer yet because of an NDA they had me sign, and they only allowed me one screen cap. Heck, they are the ones that want the publicity. Something about clearing rights or some such nonsense. Who knows with these Hollywood yahoos. Here's my review of the trailer.
There's a short scene showing Zan (David Schwimmer) and Jayna (Christina Ricci) as kids, which looks cool. The trailer starts out with a short scene showing the Wonder Twins as kids. "Form of, a popsicle," that's not really what they say, but I'm sure that's what kids would want.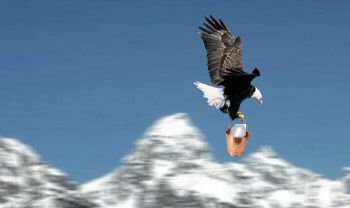 The high-flying Zan and Jayna in action.
The trailer then flashes forward to present time and Zan and Jayna get kicked out of the Justice League, because of some boneheaded move by Gleek (voiced by Andy Serkis). Doesn't seem fair to me, but what can you do? I was expecting the trailer to be played for laughs like Scooby Doo or Starsky and Hutch, but it seems to be played straight.
After that, a villain appears. I couldn't tell who was playing him because of the costume, but he sounded familiar. Of course the rest of the Justice League can't stop him. They get imprisoned in some underground chamber. Gee, I wonder who's going to save the world now? That's right. Zan and Jayna. Form of, a canned plot.
Anyway, despite the predictable plot the trailer is entertaining. The special effects are good and Jayna looks mighty nice in her purple tighties. I could do without David Schwimmer in tights, but you have to take the good with the bad. Looks like he bulked up for the role, or is wearing one of those "muscle suits" you hear about.
The rest of the trailer has some action sequences with plenty of "Wonder Twins powers, activate!" and "Form of, a lemon slushie", "Form of, a howler monkey." You get the idea. I'm sure you'll see it soon enough.
Conclusion on Trailer: It has some funny moments and good production values. There are some weak scenes, but this probably isn't the final version of the trailer either. When it comes out for the public it'd be worth a look just to see Jayna in the purple tights.
Conclusion on Movie: Hard to draw many conclusions from a short one and a half minute trailer, but looks like it could be a good one.
Not sure if you should believe me? Check out the Dysfunctional Family of Five reviews at DeadBrain.

Recommend This Story to a Friend