Reviewinator

Trailer
Quicktime
Starring
Director
Christopher Nolan
Official Site
Link
US Opening

June 15 , 2005

Rated
PG-13
Genre
Comic Book Adaptation
Trailer Clichés
Quick-cut title reveal, explosions
Explosions
6
Weapons
Throwing bat, fighting sticks, hand guns, rifles, fire-breathing horse
Voiceover
No
In a world...
"What do you fear... "
Trailer
Déjà Vu
Spider-Man
One Word Review
Dark
Spoilage Factor
35%
Geek Factor
75%
See Trailer?
Yes
See Movie?
Yes
I have to admit, I never saw any of the crappy Batman movies. I only saw the first. I saw bits and pieces of the others, enough to know they sucked. The Batman in this trailer looks more like the one from the comic books, and less like Adam West.
However, there is one frightening moment where Christian Bale eerily resembles Matthew McConaughey. It's only momentary, but it's the most frightened I've been by a trailer in a long time.
As the title suggest, the trailer covers the origins of Batman. His childhood, his training and how he managed to get a girlfriend as cute as Katie Holmes.
Liam Neeson reprises his role as Qui-Gon Jinn from The Phantom Menace, to train the young Jedi, Bruce Wayne. Wait, he's Mr. Miyagi. Darn, I'll get the right movie eventually.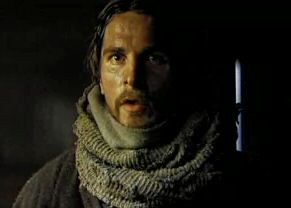 "Hurry, take me to the Bat Bath."
After being trained, Bruce Wayne heads back to Gotham city to clean it up from all the scum and villainy. He also gets some familiar, cool bat toys from Morgan Freeman who reprises his role as Q from the James Bond movies. I was happy to see Morgan Freeman, as any movie with him in it will at least be good while he's on the screen.
Not much time is spent on the villains in the trailer. The original film benefited from Jack Nicholson in the role of the Joker. This movie has plenty of stars, but all of them appear to be on the side of good. We only get brief glimpses of what appear to be bad guys. A good superhero movie needs good villains, so hopefully they'll be more prominent in the movie. He can't just be fighting evil in general, but fighting General Evil makes a good movie.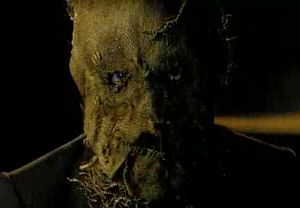 How about a little fire, Scarecrow?
Only one humorous comment from Bruce Wayne in the entire trailer, but it's a good one: "A guy, who dresses up like a bat, clearly has issues." I expect more good stuff like that from the film.
Conclusion on Trailer: Darker than the previous few Batman movies, which I take as a good sign. I also take the appearance of Katie Holmes nipples as a good sign as well. This trailer gives me hope for the franchise, and that makes it worth the download.
Conclusion on Movie: The lack of a compelling villain in the trailer frightens me, but a good director and Morgan Freeman make this one worth heading to the theater.
Not sure if you should believe me? Check out the Dysfunctional Family of Five reviews at DeadBrain.

Recommend This Story to a Friend