Reviewinator

Trailer
Quicktime
Starring
Director
George Lucas
Official Site
Link
US Opening

May 19, 2005

Rated
PG-13
Genre
Space Opera
Trailer Clichés
Quick-cut title reveal, release date, explosions
Explosions
25
Weapons
Light sabers, star destroyer, various space ships, laser cannon, blaster, bowcaster, lightning bolts,
Voiceover
No
In a world...
"Do what must be done..."
Trailer
Déjà Vu
Empire Strikes Back
One Word Review
Darthy
Spoilage Factor
45%
Geek Factor
99%
See Trailer?
Yes
See Movie?
Yes
I went back to look at my Attack of the Clones trailer review to see what I felt about it. I liked it, and recommended the movie. I hope we're not fooled again this time. I'll go see Revenge of the Sith like a good nerd boy, but if I'm disappointed, I'm not going to go see the next one.
Before I get to the review, I have to mention how much of a pain getting this trailer was to download. Usually, I just click on the little arrow in the lower right corner of QuickTime and hit "Save as Source," so I can manipulate the trailer as I see fit to write my reviews. First, this one didn't have the little arrow in the bottom right hand corner, so I had to look at the source of the page to find the file. After finding the file, I found that saving had been disabled, so I did what any self-respecting geek would do, I downloaded it using emule.
What's the point of disabling the save function? Only a small percentage of people buy QuickTime to have that functionality, and even a smaller percentage want to save a trailer. The point of the trailer is to get people to see the movie, so the more people that see it the better. Obviously, Lucas and AOL don't see it that way. As with all DRM there were ways around it. It just made my job a little more difficult.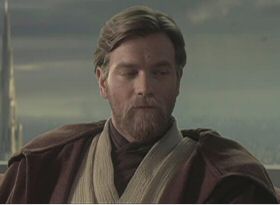 "My Amidala, that's a mighty fine booty you got there."
Doubtless you've already seen the trailer, so I won't get too much into description. Anakin gets buddy-buddy with the Emperor and turns evil. We know how the movie ends, and from the trailer we can tell how it gets there.
It is simple to create a compelling two minute trailer from a Star Wars film. The films have cool looking special effects and plenty of explosions to blow away your synapses in a trailer. The problem with the films is what happens between the explosions. For this final movie, Lucas has been forced by the story arc to be darker than the previous two. Hopefully, that will result in an Empire Strikes Back and not a Phantom Menace. My light sabers are crossed.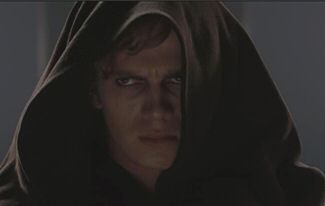 "Don't you be looking at my woman Obi"
Conclusion on Trailer: It does its job. It has me excited about going to see the final film. Excellent special effects and action make it worth the download.
Conclusion on Movie: I have high hopes for this final film. It's the end of the franchise. Lucas better not screw it up.
Not sure if you should believe me? Check out the Dysfunctional Family of Five reviews at DeadBrain.

Recommend This Story to a Friend