Reviewinator

Trailer
Quicktime
Starring
Director
Steven Spielberg
Official Site
Link
US Opening

June 29, 2005

Rated
PG-13
Genre
Alien Invasion
Trailer Clichés
Quick-cut title reveal, "Tom Cruise", explosions
Explosions
7
Weapons
Tanks, bazookas, fighter jets, tentacles, shotgun, handgun,
Voiceover
No
In a world...
"This is not a war, this is an extermination... "
Worst Line
"That is so weird. The wind is blowing toward the storm."
Trailer
Déjà Vu
Independence Day
Spoilage Factor
40%
Geek Factor
75%
See Trailer?
Yes
See Movie?
Yes
Another prominent Scientologist in a movie with aliens, this could be bad. Remember Battlefield Earth? Thankfully, this trailer is no Battlefield Earth.
Everyone knows about the War of the Worlds and how Orson Welles made a radio play of the H. G. Wells book, and fooled a bunch of early Believers. Steven Spielberg knows he wasn't going to fool anybody with a movie, so he's set up a real Martian invasion for the world premiere of the movie to attract attention. Our new Martian overlords will make sure we go see the film.
The trailer follows the minimovie format. It opens with Tom Cruise arriving late to pick up his kids. Then a strange storm with lightning that strikes the same spot twenty-six times. Then things go to hell for Mr. Cruise, who no doubt feels comfortable around aliens.
There are plenty of special effects with big vehicles flipping over and explosions. Later in the trailer we meet Tim Robbins who plays a recluse that knows an awful lot about this invasion.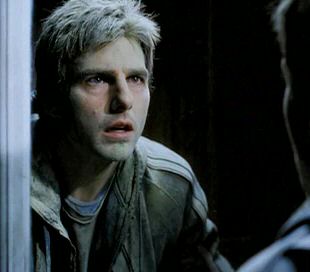 "I'm think I'm turning Martian,
I really think so."
In fact, he says, "It's not a war, it's an extermination." If that's true then they should've called it Extermination of the World, but then that probably wouldn't be so exciting for all you earth dwellers.
It looks like most of the movie will focus on a Lassie Come Home type of story with Tom trying to reunite his son and daughter with their mother. Rumor has it that they will reunite, and then their brains get eaten by Martians. Actually, that's just wishful thinking on my part.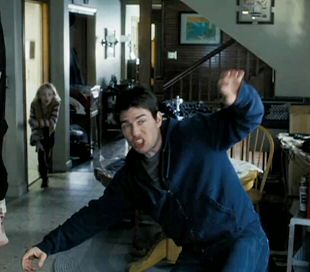 Tom introduces a new dance move, the Martian Hustle, that will be sweeping the clubs this summer.
I can't wait for War of the Worlds Part 2 which covers the aftermath of the invasion, and chronicles how America "lost its innocence" for the umpteenth time.
Conclusion on Trailer: The trailer builds tension and gives a good introduction to the story. There's an awful lot of Tom Cruise, so if you're not a fan you might want to avoid it. Otherwise, it's worth the download.
Conclusion on Movie: Production values are high, and Spielberg practically invented the summer blockbuster. I'll be going to see it, so should you.
Not sure if you should believe me? Check out the Dysfunctional Family of Five reviews at DeadBrain.

Recommend This Story to a Friend