Reviewinator

Trailer
Quicktime
Starring
Director
Tim Story
Official Site
Link
US Opening

July 8, 2005

Rated
PG-13
Genre
Comic Adaptation
Trailer Clichés
Quick-cut title reveal, "This Summer ", explosions, choral music, flying cars
Explosions
18
Weapons
Cosmic rays, hand guns, force push, missile, electroray, fist of rock, flying Fire Man

Man Quotient

10.4

(Explosions + Weapons + Hot Babes - Kisses)/ Minutes

Voiceover
No
Worst Line
"Don't even think about it. "
Trailer
Déjà Vu
Lost in Space
Spoilage Factor
40%
Geek Factor
40%
See Trailer?
No
See Movie?
No
For the uninformed, you didn't miss Fantastic 1, 2 and 3. This is not a sequel. The "four" refers to the number of superheroes. The Fantastic 4 consists of Mr. Stretchy, Fire Man, Strong Rock Guy and Hot Woman in Tights that Can Turn Invisible (Why have the best looking person turn invisible, I'd much rather see Strong Rock Guy turn invisible). I probably got the names wrong, but does it really matter?
Now, with that public service message out of the way, on to the review.
As the trailer begins we get the origins of the Fantastic 4 and their archnemesis, Dr. Doom. Now call me crazy, but I wouldn't go up into a space station with a guy named Dr. Doom. Our heroes aren't that smart though. They go up into a space station where they are hit by cosmic rays, which fundamentally alter their DNA.
I think it would take more than DNA alterations to give you superpowers, but it's a movie, not a documentary.
The rest of the trailer consists of the four doing regular action-hero stuff: saving fire trucks from falling off bridges, diving off buildings, taking temperatures with hot nurses. Yawn. And guys, Jessica Alba remains fully clothed for the entire trailer. Talk about disappointing.
The flaming "4" in the night sky at the end of the trailer looks really hokey. I hope that doesn't appear in the movie.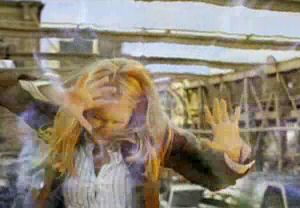 Can I get an AMEN!
After watch this trailer, I once again plead with Hollywood to stop the comic book adaptations for a while. Stop beating the dead horse. It may come back to life if you let it breath for a year or two.
Conclusion on Trailer: Yet another comic book adaptation that doesn't get me excited. Only worth downloading if you have a serious Jessica Alba thing going on.
Conclusion on Movie: Generic action movie without any compelling reason to watch it. Stay home and try to alter your own DNA instead.
Not sure if you should believe me? Check out the Dysfunctional Family of Five reviews at DeadBrain.

Recommend This Story to a Friend