Reviewinator

Trailer
Quicktime
Starring
Director
Michael Bay
Official Site
Link
US Opening

July 22, 2005

Rated
PG-13
Genre
Dystopian Thriller
Trailer Clichés
"From the Director of...", "Summer ", explosions, choral music, flying cars
Explosions
7
Weapons
Eye bugs, taser rifle, flying signs, helicopters, armored trucks, gravity, flying cars

Man Quotient

6.9

(Explosions + Weapons + Hot Babes - Kisses)/ Minutes

Voiceover
No
Worst Line
"You two, watch your proximity. "
Trailer
Déjà Vu
Minority Report
Spoilage Factor
60%
Geek Factor
25%
See Trailer?
No
See Movie?
No
If you told me there was a new movie coming out that starred Ewan McGregor, Scarlett Johansson, Sean Bean and Steve Buscemi, I would be excited to see it. Especially, if you left out the part that it was directed by Michael Bay. After watching this trailer, though, you'll have no doubt that Michael Bay was involved.
He doesn't care that I think his movies suck, but they do. After seeing this trailer, I can tell you that it sucks too. That's a disappointment. The premise has so much promise.
An evil megacorp led by Sean Bean creates genetic copies of people. The trailer doesn't say why these clones are created, but my guess; it's so Michael Bay can have a plot device to create a loud action movie around.
Every so often these genetic copies get a chance to win a trip to "The Island." The latest winner, Scarlett Johansson, lucks out because fellow clone Ewan McGregor has discovered there isn't an island. They're just going to kill her. They escape and then the chase is on.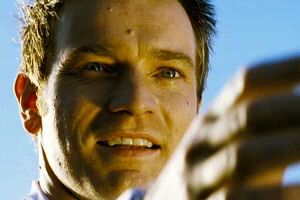 "Hi, my mole's on the
right side of my forehead"
The trailer is full of cars flipping over, and people yelling commands. The evil megacorp's lackeys must kill the clones before they reach the real world and find their twins.
The situation could raise several interesting questions about morality and the direction of society, but most likely we'll just get cars exploding and a show down with the villain.
I always enjoy director's visions of the future, but in The Island, the glimpses of the future world don't look convincing. You've got people flying through the air on futuristic jet skis chasing futuristic looking cars, but then you've got a standard armored truck and an SUV. Obviously, the budget for futuristic vehicles had to be diverted to explosives.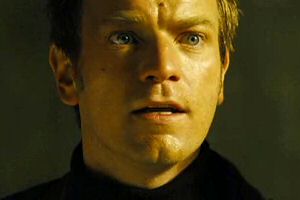 "OK, now it's on the left.
What's up with that?"
Conclusion on Trailer: Like a Michael Bay movie, only shorter. Cars crashing, people running, loud music. Not worth downloading or watching.
Conclusion on Movie: Unconvincing vision of the future and Michael Bay's tendency to suck make this one that you should miss.
Not sure if you should believe me? Check out the Dysfunctional Family of Five reviews at DeadBrain.

Recommend This Story to a Friend