Reviewinator

Trailer
Quicktime
Starring
Director
Bruce Hunt
Official Site
Link
US Opening

August 26, 2005

Rated
PG-13
Genre
Thriller
Explosions
2
Weapons
Teeth, Claws, Knife

Man Quotient

2

(Explosions + Weapons + Hot Babes - Kisses)/ Minutes

Voiceover
Yes
"In a world..."
"They were never seen again..."
Trailer
Déjà Vu
Anaconda
Spoilage Factor
65%
Geek Factor
15%
See Trailer?
No
See Movie?
No
After the horror of Deuce Bigalow, we now face a new horror: The Cave.
An expert group of spelunkers (except they don't use the word spelunker, because that would be too scary for America) has been organized to find out what happened to seven men who never came back from the largest cave system in the world. The ragtag bunch of spelunkers, who will easily fall into preprogrammed stereotypes, gets attacked by some monsters and find their only known exit blocked.
Everyone knows the plot points of this movie. A final showdown with the queen mother of the creatures. Someone or thing that we thought was dead will come back to life. Someone will sacrifice themselves for the rest of the team. A final explosion will close the cave forever, or does it.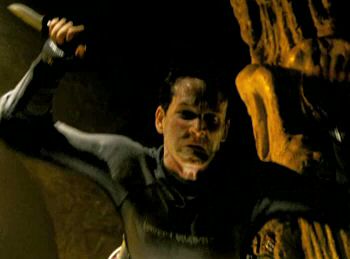 The "flying knife" scene.
The trailer flashes on the screen, "Beneath heaven lies hell, beneath hell lies The Cave. Beneath the Cave, a long, long, long way down, lies Deuce Bigalow: European Gigolo." OK, it didn't say the part about Deuce Bigalow, but it would've scored some points with me if it had.
As well as the generic action, the trailer has a shot reminiscent of Reign of Fire where one of the characters is jumping with a knife towards a flying monster. I made the mistake of thinking Reign of Fire might be good. I won't make the same mistake with The Cave. In fact, I'll make a rule: Any trailer with a "flying knife" scene will be given a bad review. I don't think I can miss with that one.
If the flying knife scene doesn't get you excited then maybe this thrilling dialog will:
"How big was it?"
"It's big."
Simply riveting!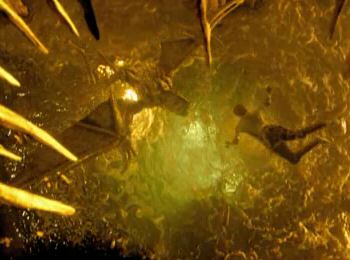 What this trailer needs is more flying knife!
Revealing the monster in the trailer is a big mistake. I like surprises. The producers of The Cave trailer don't. There are several shots of the monsters which look like pterodactyls on steroids. Doesn't seem like a great adaptation for surviving in the closed-quarters of a cave, but that could just be me.
Conclusion on Trailer: The trailer does have one good fright moment, but the rest is predictable and uninspired. This one isn't worth the download.
Conclusion on Movie: Looks formulaic and predictable. No big stars or compelling plot, so let this late-summer thriller stay underground.
Not sure if you should believe me? Check out the Dysfunctional Family of Five reviews at DeadBrain.

Recommend This Story to a Friend