Reviewinator

Trailer
Quicktime
Starring
Director
Andrzej Bartkowiak
Official Site
Link
US Opening

October 21, 2005

Rated
R
Genre
Video Game Adaptation
Explosions
5
Weapons
Assault Rifle, chain gun, machine gun, pistol, plasma gun, BFG, chainsaw, flying debris

Man Quotient

6.78

(Explosions + Weapons + Hot Babes - Kisses)/ Minutes

Voiceover
Yes
Alternative Title
Men Blow Stuff Up
Worst Line
"If it breathes, kill it. "
"In a world..."
"At a distant research facility..."
Trailer
Déjà Vu
Doom 3
Spoilage Factor
30%
Geek Factor
85%
See Trailer?
No
See Movie?
No
Doom is a trailer that opens badly and ends worsely. To start, a voice-over intones "at a distant research facility the last 10% of the human genome has just been discovered."
Right there you've lost me. In the game, the evil scientists have opened a portal to hell, but here it's just genetic mutation. It's not a fatal flaw, but if you're going to change the plot, why draw focus to the fact by saying "hell" every ten seconds.
Also, how is the human genome discovered? Don't we already know that the human genome exists, so how could it be discovered? He should've said "decoded" or something like that. That might be getting to technical, but it is a geek movie so they should try to be correct.
We then learn that this 10% of the human genome has caused "all hell to break loose." See there they go with the "hell." There are some pictures of scientists running to their doom.
After that The Rock gets his orders: contain the monsters, or eliminate them with "extreme prejudice." Please, talk about your overused phrases. Next, we're introduced to the ragtag bunch of Marines that will storm the station. At this point the lack of quality material becomes clear. It is a short trailer to begin with, and they spend a long time going through each Marine's nicknames. With names like Reaper, Duke and The Kid, you can see the writers needed a category 5 brainstorm to come up with those.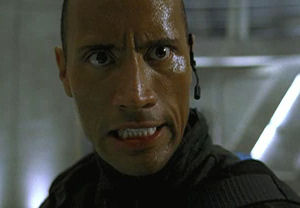 Another genetic mutation?
Rock tells his troops they are going in hot. "If it breathes kill it." The Marines proceed to open fire on The Rock, because he's breathing. OK, they don't, but you wish they would.
After this we get a bunch of first-person-shooter perspective shots of the Marines killing monsters. First-person perspective works well in a game, because you're supposed to feel you're in the game. In a movie, it's a gimmick that looks hokey. They even have a computer voice saying things like "enemy approaching" and "reload." It's like watching somebody else play a game, and that gets boring quickly.
The textover even says "get in the game," but you can't because you're watching a movie. A rock soundtrack begins and gunfire gets more intense. The clichéd reveal of the title must be coming up. It does.
Conclusion on Trailer: The trailer for the game was better than this. Only watch it as a cautionary note to not see the movie.
Conclusion on Movie: This one will suck in so many ways that it will be hard to find appropriate adjectives. Stay away from it with extreme prejudice.
Not sure if you should believe me? Check out the Dysfunctional Family of Five reviews at DeadBrain.

Recommend This Story to a Friend