Reviewinator

Trailer
Quicktime
Starring
Director
Robert Schwentke
Official Site
Link
US Opening

September 23 , 2005

Rated
PG-13
Genre
Thriller
Explosions
1
Weapons
Handgun, Fire Extinguisher

Man Quotient

2.05
(Explosions + Weapons + Hot Babes - Kisses)/ Minutes

Voiceover
No
Worst Line
"You know she's alive. You know she's on this plane. "
Trailer
Déjà Vu
Panic Room
Spoilage Factor
45%
Geek Factor
25%
See Trailer?
Yes
See Movie?
Yes
You have to keep a close eye on your kids at the airport. There's always lots of people around and they can easily get lost. Once you get on the plane though, you should be safe. It's not like they can disappear in midair… or can they?
This week, we look at the trailer for Flightplan, which delves into the growing problem of children disappearing mid-flight. For a two-and-a-half minute trailer, it's full of twists and turns. Thankfully, though, the ending isn't spoiled.
Jodie Foster takes her daughter on board a new super-jumbo passenger jet with two passenger decks, seven galleys and a partridge in a pear tree. Jodie's daughter asks her if she made the plane, and she says she did. That's a bit presumptuous considering a giant aircraft like that would take the work of thousands of people to design and build.
Then we see she's in row 26. Row 26? She built the fricking plane and she's in row 26? Something is fishy.
Mother and daughter have some touching moments, then Jodie falls asleep. When she wakes up, her daughter is missing. She asks nearby passengers and the flight crew, but they haven't seen her. She gets a bit more frantic, and the flight crew gets involved in the search.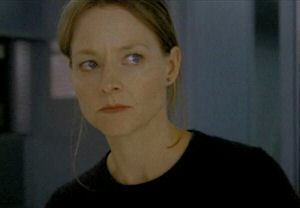 "Say it, dont' spray it."
The Captain, played by Boromir, finally has enough of this crap and tells Jodie that her daughter died six days ago. As an observational note, if you watch closely when he screams, "She's dead!" you'll see that Jodie got quite the shower. I hope that only took one take.
Luckily, there's an air marshal on board to escort the loony Jodie back to her seat and to provide a much-needed gun to the plot. Now comes twist number two, on returning to her seat, Jodie sees the heart her daughter traced on the window. (Do airplane windows fog up when you breath on them?) Now, Jodie has proof her daughter was with her.
Here's where the plot point about her making the plane comes in. She designed in a secret compartment into the ceiling of the lavatory which leads to the innards of the plane just for an emergency like this. The trailer doesn't reveal who the bad guy in the film is, but it's hard to believe Sean Bean would be on the good side. That would be against his typecasting.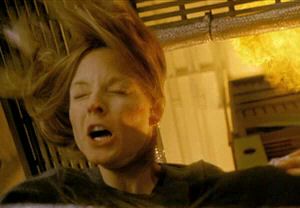 "We're gonna need more FBI guys."
The rest of the trailer shows Jodie running around the plane and laying the smack down with a fire extinguisher. Finally, we learn that it's all a dream and she's just vacationing in Cabo. OK, I made up that last part, but it could happen.
There aren't any terrorists on the plane, but it's got that "Die Hard" feeling. One person against the world in an enclosed area.
I do appreciate that we never see the daughter again after she disappears. I know it would be a big spoiler, but trailers have been known to do that.
Conclusion on Trailer: There are enough twists and turns in this trailer to make it worth the download.
Conclusion on Movie: The plot is compelling enough and Jodie Foster is reliable, so this one should be worth watching.
Not sure if you should believe me? Check out the Dysfunctional Family of Five reviews at DeadBrain.

Recommend This Story to a Friend