Reviewinator

Trailer
Quicktime
Starring
Director
Joss Whedon
Official Site
Link
US Opening

September 30, 2005

Rated
PG-13
Genre
Science-Fiction
Explosions
10
Weapons
Shotgun, machine gun, hand gun, pulse gun, various other futuristic guns, space ship, genetically-modified super ninja

Man Quotient

9.56

(Explosions + Weapons + Hot Babes - Kisses)/ Minutes

Voiceover
No
Worst Line
"Here's us, on the raggedy edge."
Best Line
"This is the Captain. We may experience some slight turbulence and then explode."
Trailer
Déjà Vu
The Fifth Element
Spoilage Factor
20%
Geek Factor
95%
See Trailer?
Yes
See Movie?
Yes
Here is our reward. After enduring Deuce Bigalow and The Man, we've been given a trailer that makes us glad movies are made instead of wishing an atomic strike on Hollywood.
Serenity is based on the television series Firefly. I've never seen the series, so please forgive any errors that I might make. I don't know the background of these characters or who's related to whom.
This trailer is about a ragtag band of rebels who happen upon a hot fox super ninja that the evil empire wants dead. Yeah, that sounds corny, and the trailer has its fill of clichés; explosions, guns, action, quick-cuts and pulsing dance sound track. But, the dialog has enough wit and the characters have enough personality that this doesn't seem like your generic sci-fi action film.
The trailer opens with our ragtag band of rebels robbing a vault, which shows their rebel cred, but then they say what they're taking is rightfully theirs, so they prove their hearts of gold.
Next, we get to meet the super ninja who just happens to be a beautiful young lady. The hot fox super ninja is getting close to becoming a cliché. Just a little warning I'd like to have moviemakers ignore like all the others I've put out.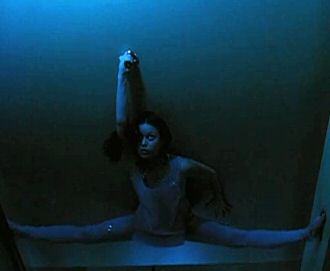 Just hanging around.
Here comes the downside of having a hot fox super ninja on your space ship. The evil empire wants her dead. This causes dissension among the crew and a moral dilemma for the captain. Give up the hot fox super ninja and save yourself, or find a clever way to bring down the empire and keep the hot fox super ninja for yourself.
In real life the Captain would give up the hot fox super ninja, because they're a dime a dozen these days, but for the film he decides to keep her. This results in explosions and a pulsing dance soundtrack. Finally, there's a cowboy show down between the Captain and the evil empire and a reveal of the title.
Conclusion on Trailer: Despite my description above, I enjoyed this trailer greatly. I don't think it was just the lowered expectations created by the last two. This one was actually good. Great action and humor, plus plenty of space ships and guns. This one is a winner.
Conclusion on Movie: Finally a movie I can recommend. If it can sustain the action and humor at a good ratio, then this one would be worth seeing.
Not sure if you should believe me? Check out the Dysfunctional Family of Five reviews at DeadBrain.

Recommend This Story to a Friend