Reviewinator

Trailer
Quicktime
Starring
Director
Les Mayfield
Official Site
Link
US Opening

September 9 , 2005

Rated
PG-13
Genre
Fish Out of Water
Explosions
0
Weapons
Handgun

Man Quotient

.43

(Explosions + Weapons + Hot Babes - Kisses)/ Minutes

Voiceover
Yes
Worst Line
"Tell me you didn't go in the pool."
Trailer
Déjà Vu
Analyze This
Spoilage Factor
0%
Geek Factor
0%
See Trailer?
No
See Movie?
No
The people that pitched this movie to the studio must've been lying their asses off, because I can't believe a study executive would be dumb enough to green light this piece of crap as it is. Wait, I take that back. Given the feces that comes out of Hollywood, I'm sure there must be hundreds of morons in suits who approve this stuff.
Or maybe I'm wrong; it could be there's a Crappy Movie Clearance Sale down at the Movie Outlet with deals the studios just can't pass up. I present to you The Man, a trailer for a movie that Samuel L. Jackson won't be putting on his highlight reel.
To be honest, I don't find Eugene Levy all that funny. I asked my friends, and they don't find him funny either. Actually, neither of them knew who Eugene Levy was, but that was good enough for me. So, one strike against this "comedy" before I even saw the trailer.
Get out your dead horse of cliché fame, because this film is going to beat them into the ground. Tough black undercover cop must work with annoying white bastard to solve a crime. In the end they learn something from each other and the bad guys go to jail. In between, they get into several wacky situations like pissing in a pool and driving a car with hydraulic lifts. I'm sure that sounds familiar to you.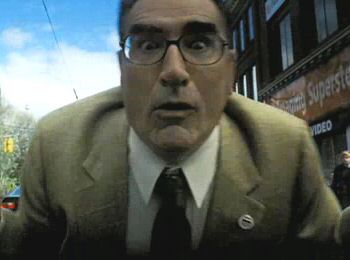 The face of not comedy
There's no Rob Schneider in a diaper, so it has Deuce Bigalow beat, but that's not a standard that means much. I shouldn't be so harsh. I did crack a couple smiles and Samuel L. Jackson's voice is always fun to listen to. The rest, however, is full of stereotypes and unfunny scenes.
Conclusion on Trailer: Eugene Levy is not funny and neither is Samuel L. Jackson, a bad sign for a comedy. Don't waste your time downloading this piece of crap.
Conclusion on Movie: English mother fucker, do you speak it? If you do, you shouldn't go see this movie. If you don't, you can't understand what I'm writing, but you still shouldn't go see the movie.
Not sure if you should believe me? Check out the Dysfunctional Family of Five reviews at DeadBrain.

Recommend This Story to a Friend