Reviewinator

Trailer
Quicktime
Starring
Director
Karyn Kusama
Official Site
Link
US Opening

December 2, 2005

Rated
PG-13
Genre
Sci-Fi, Action
Explosions
5
Weapons
Rifles, bazooka, chain gun, handgun, fists o' fury, grass, explosive balls, assault rifles, mini-bomb, sub-machine gun

Man Quotient

8.12

(Explosions + Weapons + Hot Babes - Kisses)/ Minutes

Voiceover
Yes
"In a world..."
"Our world is beautiful..."
Trailer
Déjà Vu
Brazil
Spoilage Factor
25%
Geek Factor
40%
See Trailer?
Yes
See Movie?
No
I'm surprised the trailer didn't open with the words, "From the company that brought you Pootie Tang and Britney Spears' Crossroads comes Aeon Flux…" OK, I'm not surprised, but it would've been funny.
I remember watching some of the Aeon Flux animation shorts on MTV back in 91-92. All I can remember is Aeon jumping around and shooting lots of bullets. I don't remember a story line, but maybe there was one I missed.
Oscar winner Charlize Theron in the title role proves that not only can she act, but she can make bad career choices as well.
The trailer opens with scenes of a futuristic city with Aeon Flux high above on a platform (see Daredevil, Spider-Man). She makes one of her signature leaps and somersaults into a perfect landing. Gravity has less of an effect on her than others apparently or she's got some thick Dr. Scholl's in those boots.
Aeon tells us via voiceover that they are in the last city on Earth. Some think it's just peachy, but the woman dressed in tight black leather knows better. It's a standard dystopian society where government control is total and people disappear without a trace.
Aeon is part of the rebel alliance that fights for the disappeared. She's a trained assassin and we get some shots of her kicking some government butt. She has gadgets that blow things up among other goodies.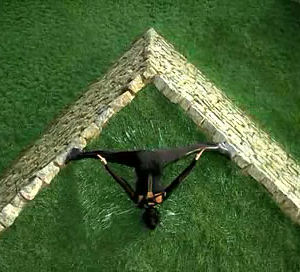 An interesting position, I wonder why they chose it?
A wild-haired Frances McDormand gives Aeon her newest assignment. She must eliminate Chairman Goodchild, because the government is hiding something. The rebels will have their victory. In a rebel world people won't disappear without a trace, they'll be a large pool of blood to mark the spot.
Remember in the Serenity trailer when the crazy hot assassin babe hangs from the ceiling with her legs at 180 degrees? That must be all the rage in Hollywood these days, because we get the same scene with Aeon. What could be the fascination with hot women putting their legs in that position? I can't think of any. Instead of hanging from a ceiling, however, Aeon uses her spread-open legs to keep her from falling into some deadly grass.
Aeon has some nifty toys like balls that respond to her call. She whistles and the balls come. They are explosive balls. Balls that blow through walls. With her legs spread wide open!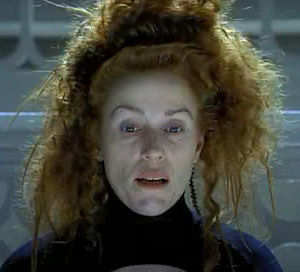 A low budget meant the stars had to do their own hair for the movie.
Next we get a bunch of explosions, guns and fights which predictably reach a frenetic pace before the reveal of the title.
During the trailer Aeon makes a few weak attempts at one-liners, but nothing memorable. That's not a good sign. Legs spread wide open – good sign. Weak one-liners – bad sign.
Conclusion on Trailer: Watch the trailer so you don't have to see the movie. The action isn't spectacular and the dialog is lame. Charlize is pretty though. Not worth downloading for 56kers, but worth a look for broadbanders.
Conclusion on Movie: With the MTV name and the predictable trailer, I'd say this is one to miss. Charlize Theron may spread her legs wide open but she's not an action star. The plot seems derivative and the effects seem lame. In a world of total government control, we wouldn't have this movie. Now does that seem so bad?
Not sure if you should believe me? Check out the Dysfunctional Family of Five reviews at DeadBrain.

Recommend This Story to a Friend