Reviewinator

Trailer
Quicktime
Starring
Director
Mike Newell
Official Site
Link
US Opening

November 18, 2005

Rated
PG-13
Genre
Fantasy
Explosions
4
Weapons
Fire, scythe, teeth, wand

Man Quotient

3.8

(Explosions + Weapons + Hot Babes - Kisses)/ Minutes

Voiceover
No
Worst Moment
Harry's spit take
Trailer
Déjà Vu
Harry Potter and the Man from U.N.C.L.E.
Spoilage Factor
40%
Geek Factor
35%
See Trailer?
Yes
See Movie?
Yes
You'd think a guy who has read The Lord of the Rings four or five times would have at least a moment to read one of the Harry Potter books. I haven't. I haven't seen any of the previous movies either, mostly because I hadn't read the books yet, and didn't want to ruin them. I'm not a Harry Potter hater, I started reading the first book to my daughter a couple of years ago and she thought it was boring (this it the girl who made it through a reading of the entire Lord of the Rings). I didn't form an opinion one way or the other.
I only state all this because I want you to know that I have no idea what is going on in this trailer. I know which characters are Harry, Ron and Hermione, but beyond that I haven't a clue. Please, fans of the series, don't e-mail me with explanations. I'll get to the books eventually, probably when the last one is published so I can sit down and read them all in one sitting.
This was the first trailer I've reviewed that I viewed in HD. I'm not sure if it was the HD or not, but the CGI looks impressive. I like the imagery and style used.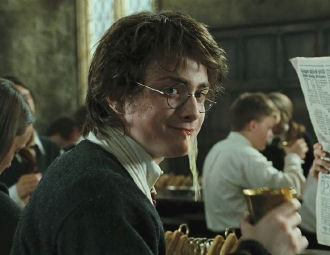 The worst spit take ever.
The trailer opens with a great shot of a flying-horse drawn carriage arriving at Hogwarts. Professor Pinkletwig (didn't look up) announces that Hogwarts will be hosting some students from other schools this year: The hot guys of Durmstrang (looked up) for Hermione's love interest, and the beautiful girls of Beauxbatons (looked up) for Ron to ogle.
At this point Harry Potter does the worst spit take I have ever seen. They have a big budget. They could have afforded to do a few more takes until he gets one that looks realistic.
Next the trailer turns to the upcoming ball at Hogwarts. Harry asks a girl, Ron gets to practice dancing with an old woman, and Hermione pisses off Ron by consorting with the enemy. Hogwarts! Hogwarts! Rah! Rah! Rah!
The happy, fairy princess music ends, and the theme from "Impending Doom" begins. Hogwarts will host to the triwizard tournament. The top magicians from each school will go against one another. Of course Harry gets chosen for Hogwarts which pisses off Ron. Harry proclaims that he didn't even put his name in for consideration! Could it be… magic?
The tournament isn't all fun and games. "People die in this tournament," Claudius Fifflefuffer (didn't look up) proclaims. Harry has some close calls with a pissed off dragon, but we know he doesn't die, because the next book has already been published, so much for the suspense.
Now it gets creepy. Harry has a bad feeling that evil is coming closer. Death (the guy) appears, and Igor summons evil spirits (more eviler than death).
"Who said we were terrorists?"
Harry wonders if it's Voldemort. I'll assume that Voldemort coming back is a bad thing, but I couldn't tell you for sure. Whoever it is, he likes to burn down villages.
The trailer ends with a quick-cut sequence and a title reveal. Hermione says, "Everything is going to change isn't it." Could this be the portent of evil that the soundtrack has been foreshadowing? I couldn't tell you. I have no idea.
As a general comment, I think the names other than Harry and Ron sound silly. Maybe, I'll change my mind if I read the books. Oh, and Ron should get a haircut.
Conclusion on Trailer: Good CGI and imagery cover for the silly names and bad spit take. If you're into Harry Potter then you've already seen the trailer. If you're not then you might want to watch it, so you have some connection to popular culture.
Conclusion on Movie: It is number four in a series, so if you haven't seen the earlier ones then you should catch those first. If you have seen the earlier ones, then you've got a much better idea than me if this movie will be any good.
Not sure if you should believe me? Check out the Dysfunctional Family of Five reviews at DeadBrain.

Recommend This Story to a Friend