Reviewinator

Trailer
Quicktime
Starring
Director
Peter Jackson
Official Site
Link
US Opening

December 14, 2005

Rated
Not Yet Rated
Genre
Monster, Remake
Explosions
0
Weapons
Wall, natives , rifle, machine gun, teeth, giant bug, pincer, flying cars, panic, biplanes, Kong

Man Quotient

4.1

(Explosions + Weapons + Hot Babes - Kisses)/ Minutes

Voiceover
No
Worst Moment
"From Academy Award winning director..."
Trailer
Déjà Vu
Jurassic Park
Spoilage Factor
10%
Geek Factor
25%
See Trailer?
Yes
See Movie?
Yes
I remember watching the two previous film incarnations of King Kong. The original 1933 movie was being shown on TV. My brother had a bunch of friends over to watch it. I loved the 1976 remake. The setting, the giant ape, I ate it up as a kid. Now it's 2005 and Kong is hitting the big screen again, this time it's Academy Award Winning Director Peter Jackson's turn.
The storyline to King Kong should be familiar to all. If not, it's revealed in this trailer. Americans sail to an uncharted island to film a movie. Natives kidnap the starlet of the film and offer her up to Kong. Kong protects her from all sorts of other fantastical creatures on the island. The director says screw the movie, I want Kong. Kong is captured and taken back to New York. The giant ape goes nuts in New York, climbs the Empire State Building where he's attacked by biplanes.
I would have given a spoiler warning, but the story has been around too long for that. There doesn't appear to be any deviations in the trailer, no change of setting, no brain-eating space aliens.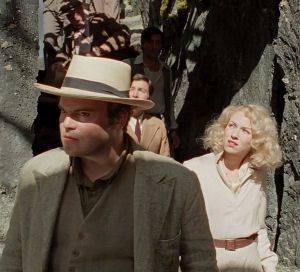 "There the crevasse!"
The trailer opens in New York with a "heroine walk" down the street towards King Kong. Kong looks incredible, almost too real. Jack Black does some poetic voiceover about beauty and the beast. Every time Jack Black speaks, I keep thinking he'll break into his Tenacious D character, "Kong took a bullet for me, now I gotta rock for three." If they do deviate from the original story in the movie, I hope that's how they do it.
Then the trailer moves to Ms. Darrow boarding a ship to find the uncharted island where Jack will film his movie. The Captain asks her if she's nervous. She replies, "I have the power to kill a yak from 200-yards away with MIND BULLETS!" OK, she doesn't but it would've been a much funnier trailer if she had.
They find the uncharted island and one lackey claims it's deserted. Wrong! Pat Buchanan! Sorry, channeling McLaughlin there. Of course the island isn't deserted. It's got crazy natives who seize the film crew and offer up Ms. Darrow for Kong.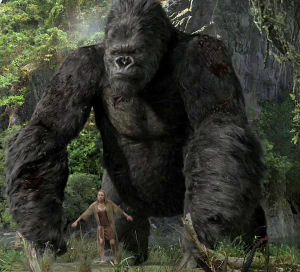 This is not the greatest movie in the world. This is just a tribute.
Now the CGI goes into overdrive. There's a T-rex and Kong battling, a bunch of sauropods stampeding and some giant bugs. After all the action on the island, the trailer moves to Kong going ape in New York City. He throws around some cars before perching himself and Ms. Darrow on top of the Empire State Building. In come the biplanes. I won't reveal how it all ends, but ****** SPOILER******** Kong dies. Crap. Sorry, didn't mean to do that.
Conclusion on Trailer: This trailer doesn't leave a lot to mystery, and I left even less. It has excellent special effects, and tells the story in a straightforward fashion. Even though it gives everything away it's worth the download.
Conclusion on Movie: I have to wonder why this movie got remade, but I admit that I'll be going to see it. You probably will too, and you shouldn't be disappointed even if I spoiled it for you.
Not sure if you should believe me? Check out the Dysfunctional Family of Five reviews at DeadBrain.

Recommend This Story to a Friend