Reviewinator

Trailer
Quicktime, WMV
Starring

Prince of Persia
Kaileena

Developer
Ubisoft
Official Site
Link
US Opening

Released

Rated
M
Genre
Action, Sequel
Explosions
3
Weapons
Bow and arrow, spear, battle axe, sword, trident, club, scythe, dagger, torch, catapult

Man Quotient

7

(Explosions + Weapons + Hot Babes - Kisses)/ Minutes

Voiceover
Yes
Worst Moment
"Who will save him from himself? "
Trailer
Déjà Vu
The Return of the King
Spoilage Factor
5%
Geek Factor
35%
See Trailer?
Yes
Play Game?
Inconclusive
The trailer for Prince of Persia: The Two Thrones shows how badly video game developers want to be film producers. It has the same voice-over talent, chorale music and title reveal that every Hollywood movie trailer has. It is beautiful to look at, but doesn't give us much idea about the game.
The trailer opens with the Prince of Persia and Kaileena running into a courtyard. Hundreds of weapon-wielding monsters rush out and surround them. The monsters shake the ground as they approach, so how they could've arrived unnoticed is a mystery.
Then we get some back story from an earlier game. The Prince made a mistake that cost a life, and for seven years he's been wandering the globe searching for redemption. The Prince returns home on his sailboat believing he had "cheated fate, but he was WRONG!"
The trailer doesn't use the infamous "In a world" phrase, but the voice-over consists of cliché after cliché.
Next, we see the Prince transforming. A bright glow flows from his tattoos. His body becomes fiery, then he turns brownish. A voice tells us that he has been infected by the Sands of Time (a code word for Saharan syphilis. Damn that Kaileena!). The Prince, much like chicken, has two souls: one dark, one light. He has a choice. Will he go over to the dark side and destroy his enemies and save his kingdom? Or, will he stay good and be killed and lose everything? Hmm, tough choice.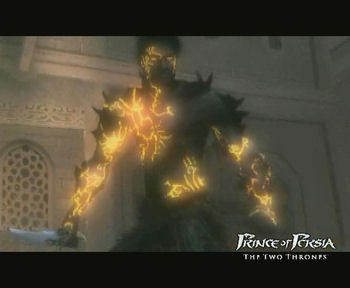 Man on Fire
Now the trailer transitions to highlight some actual game play for about four seconds, some fighting scenes and a scene in a chariot then back to more cut scenes.
Conclusion on Trailer: Very expensive looking for a video game trailer. If you didn't know earlier you would think it was for a new movie. That's impressive and worth watching. However, it doesn't show much of the actual game.
Conclusion on Video Game: Little actual game play gets shown in the trailer so it is hard to judge the game. If the developers spent as much time and money on the game play as they did on producing the trailer then this should be a good game.
Recommend This Story to a Friend