Reviewinator

Trailer
Quicktime
Starring
Director
Richard Loncraine
Official Site
Link
US Opening

February 10, 2006

Rated
PG-13
Genre
Thriller
Explosions
1
Weapons
Sub-machine gun, handgun, fire extinguisher, elbow, blender

Man Quotient

2.6

(Explosions + Weapons + Hot Babes - Kisses)/ Minutes

Voiceover
No
Worst Moment
Stylistic drop
Trailer
Déjà Vu
The Fugitive
Spoilage Factor
25%
Geek Factor
30%
See Trailer?
Yes
See Movie?
Yes
This week we review Firewall, a two-hour documentary on maintaining an effective firewall for your home computer system. You'll discover the ins and outs of hardware and software firewalls. OK, sorry to get you excited. That's not what Firewall is about. It's another Harrison Ford action movie.
Harrison Ford is 63 years old. His days of playing the action hero are nearing an end, or are they? In twenty years will an 83-year-old Ford star in Indiana Jones: The Lost Cocoon? It's hard to say. He looks like he's got a few more years left in him. Sean Connery is 75 and still going strong.
The trailer starts by introducing Harrison Ford and his family. He's married with a couple kids and works at a bank. (See, my idea was more exciting). We learn that someone has been trying to hack into the bank's computer system to steal his personal information. The bank security guy says he'll take care of it. He doesn't.
Paul Bettany leads a ring of criminals, the type that only exists in the movies, the ones that set up an overly complicated plan to steal money. These guys want to rob the bank where Ford works. The plan involves miniature cameras, hidden microphones and probably laser guided missiles. Wouldn't it be easier for smart guys like this to work on Wall Street?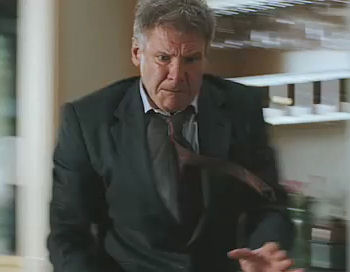 "I'm too old for this crap!"
To get Ford's cooperation, the bad guys hold his wife and kids hostage, and threaten to kill them unless he helps them rob the bank. These guys should know better than to piss off Indiana Jones. Didn't they see The Fugitive? This guy will go to any lengths to get the bad guys. He's the President of the United States! Maybe I'm getting my movies confused.
Harrison gets tired of taking orders and takes out one of the bad guys with a blender. No more Mr. Nice Guy. He's a renegade cop on the run. That might be another movie too. He steals money from the bad guys. They shoot at him. He jumps through windows. It's the regular action montage with rock music that you find in every action trailer.
In the two nods to the title of the film Harrison Ford says, "I just hacked into your accounts." Moments later a character says, "The network just crashed." Maybe my original thoughts about this movie are correct.
The trailer reveals too much about the plot. If it were thirty seconds longer, we wouldn't have to see the movie. Couldn't they have kept some of that information a surprise?
Conclusion on Trailer: Looks like a generic action film, but Harrison Ford is enjoyable to watch. Reveals too much, but if you've read this far, you already know what it reveals. Sorry.
Conclusion on Film: Good cast and plot give this one a good chance at being above average. The Pink Panther is coming out the same day, so you'll have to wait for next week's trailer review before you decide which film to see.
Not sure if you should believe me? Check out the Dysfunctional Family of Five reviews at DeadBrain.

Recommend This Story to a Friend