Redwood City , CA – In the upcoming Battlefield 2 patch 1.2 EA Games plans to create special road areas only accessible to car-pooling vehicles.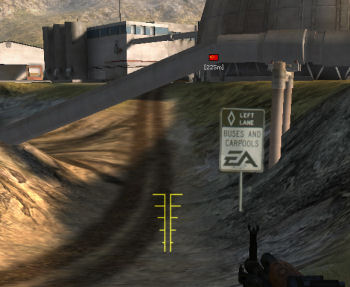 The new change will reduce congestion and make it easier for hitch-hikers to get a lift.
The rule will be enforced by virtual cameras that report solo drivers to EA Games, who then fine the violator. Drivers are infuriated.
"This change is crazy," player [NHRA] full_throttle wrote in a thread on the official BF2 forum. "I paid for this game, so I should be allowed to drive however I bloody please. After a long day of bus driving, I need a couple of hours of mowing down bad guys with a hummer to unwind. I just can't do it with some idiot hitchhiker behind me."
[NHRA] full_throttle's thread quickly derailed into bashing of foot soldiers. To many, the vehicles are fair game, or as one player put it: "If those lazy bastards are so eager to ride, why don't they camp the vehicle spawns like everyone else?"
Others likened the hitchhikers to carjackers, stating that they should be allowed to shoot anyone boarding their ride without permission. When EA promised him that fines for soloing would be capped at $10 per month most accepted, however, that freedom does have a price.
Even before the release of the patch, hackers are considering ways to avoid the new rule. Most notably, many have noted that registering an extra account and using it as a dummy co-driver should work.
Recommend this Story to a Friend